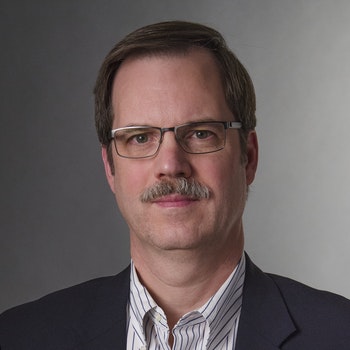 Kalamazoo College today awarded one faculty member and one staff member with two of the highest awards the College bestows on its employees.
Professor of History James E. Lewis Jr. was named the recipient of the 2020-21 Lucasse Fellowship for Excellence in Scholarship, honoring his contributions in creative work, research and publication; and Computer Science, Mathematics and Physics Office Coordinator Kristen Eldred was granted the W. Haydn Ambrose Prize, recognizing her outstanding service to the Kalamazoo College community.
Lewis' scholarly record includes published essays and book reviews in addition to four authored books:
The American Union and the Problem of Neighborhood: The United States and the Collapse of the Spanish Empire (1998, University of North Carolina Press), which was recognized as a Choice Outstanding Book for 1999.
John Quincy Adams: Policymaker for the Union (2001, Rowan and Littlefield).

The Computer Science, Mathematics and Physics departments cited Kristen Eldred's cheerful attitude, strong work ethic and creative community building in nominating her for the Ambrose Prize.

The Louisiana Purchase: Jefferson's Noble Bargain (2003, Thomas Jefferson Foundation), which was commissioned by the Jefferson Foundation based on Lewis' previously published work.

The Burr Conspiracy: Uncovering the Story of an Early American Crisis (2017, Princeton University Press), which was recognized as a finalist for the George Washington Book Prize and long-listed for the Cundill History Prize.
Lewis has taught courses in U.S. history, Native American history, American environmental history, Revolutionary America, the American frontier and Western history, and more at K. He also is a professional member of the American Historical Association, the Organization of American Historians and the Society for Historians of the Early American Republic.
A ceremony to confer the Lucasse Fellowship traditionally occurs in the spring term, where the honored faculty member speaks regarding their work.
The faculty across the Computer Science, Mathematics and Physics departments cited Eldred's cheerful attitude, strong work ethic and creative community building in her nomination for the Ambrose Prize. She works to support the Sukuma group, an organization for underrepresented students in the sciences, and Green Dot, a campus movement to stop power-based personal violence. Before the COVID-19 pandemic, she also organized a weekly teatime for faculty and students, where students and faculty could informally have non-academic discussions.
The Ambrose Prize is named after W. Haydn Ambrose, who served K for more than 20 years in a variety of roles, including assistant to the president for church relations, dean of admission and financial aid, and vice president for development. Ambrose was known for being thoughtful in the projects he addressed and treating people with respect. In addition to a financial award, Eldred has earned a crystal award to commemorate the achievement and an invitation to sit on the Prize's selection committee for two years.
Congratulations to both the honorees.