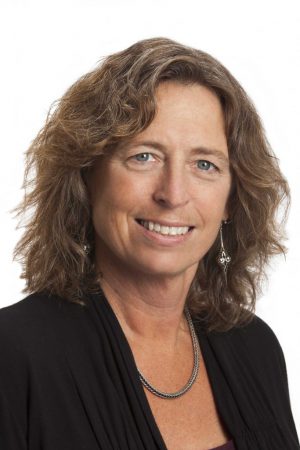 Professor of Anthropology Kiran Cunningham '83 is this year's recipient of the Lux Esto Award of Excellence. The award, announced Friday to celebrate Founders Day, marking the College's 188th year, recognizes an employee who has served the institution for at least 26 years and has a record of stewardship and innovation.
The recipient—chosen by a committee with student, faculty and staff representatives—is an employee who exemplifies the spirit of Kalamazoo College through excellent leadership, selfless dedication and goodwill.
Cunningham has been a professor at K since 1992. She served as the chair of the Department of Anthropology and Sociology from 2008 to 2014 and was a faculty fellow at the Arcus Center for Social Justice Leadership from 2010 to 2012.
Outside of K, Cunningham was a Teagle Pedagogy Fellow for the Great Lakes Colleges Association in 2012 and a research associate in 2014 for the Advocates Coalition for Development and Environment in 2014.
Cunningham "has encouraged numerous students to study abroad, has traveled internationally with students, and recently, with staff and two other faculty colleagues, developed programming for a brand new study abroad program," Kalamazoo College President Jorge G. Gonzalez said in video remarks. "Her leadership has helped interdisciplinary curriculum within her department and played a pivotal role in building it into one of the most diverse academic departments on campus."
In accordance with Founders Day traditions, two other employees also received individual awards. Professor of Mathematics Eric Nordmoe was given the Outstanding Advisor Award, and Director of Outdoor Programs Jory Horner was named the Outstanding First-Year Student Advocate Award honoree.
Nordmoe, the math department chair, began working at K in 1996 as an assistant professor. He was named an associate professor in 2004 before earning his current position in 2016. He teaches courses in statistics and mathematics, supervises senior individualized projects, engages in scholarly research, serves on faculty committee and provides statistical consultation to students and faculty.
As an advisor, Nordmoe "has reached out to alumni to inquire about potential job opportunities for his advisees and connected advisors with professional colleagues outside K to begin mentoring relationships for students," Gonzalez said. "He's quick to respond, and truly gets to know advisees."
Horner leads the College's LandSea program, an 18-day outdoor experience at Adirondack State Park in New York State, where first-year students make some of their first contacts with their incoming class. Before coming to K, he taught rock climbing, mountaineering and outdoor education for various organizations in Oregon and California. He also has certifications and trainings in wilderness EMT, physical and mental health first aid, and leave-no-trace best practices.
"Students are always the number one focus of his work, and his devotion helps him provide an excellent first-year experience for so many of them," Gonzalez said. "With LandSea, he helps students develop the grit, resilience and confidence that they use to thrive during their first-year and beyond at K. He has served as an academic advisor for many first-year students, and he has advised the Kalamazoo Outing Club. He's well-deserving of this award."