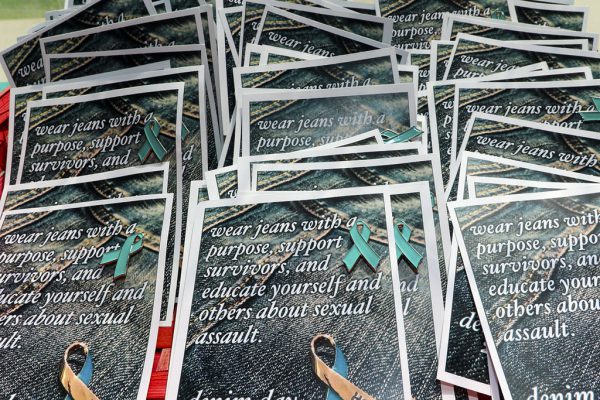 The Kalamazoo College community is invited to participate—in person, virtually and through social media—in a variety of events for National Denim Day on Wednesday, April 28, a day that supports survivors of sexual assault and sexual violence.
Patricia Giggins, a Los Angeles-based activist and executive director of Peace Over Violence, launched Denim Day in 1999 in response to an Italian Supreme Court decision that overturned a rape conviction. The court ruled that an 18-year-old woman who brought rape charges against a 45-year-old driving instructor must have consented to the assault because her jeans were tight. In other words, it was assumed that the assailant could not have removed her jeans without her help.
The absurdity of the decision prompted women in the Italian Parliament to wear jeans the next day to stand in solidarity with the survivor. Although the ruling was ultimately overturned, the annual Denim Day campaign has continued to raise awareness of sexual assault and violence.
K students, faculty and staff can participate through social media by wearing denim and sharing their pictures through Instagram using #DenimDayatK and following @kc_s.p.e.a.k, the Sexual Peer Educator Alliance at Kalamazoo College (SPEAK).
In other offerings for the day, the Office of Sexual Violence Prevention and Advocacy will provide information from the Kalamazoo YWCA, the College's Counseling Center, Planned Parenthood and SPEAK, in addition to resources on victim services and Title IX, from 4 to 6 p.m. at tables outside Hicks Student Center.
Also, join survivors and allies from 7 to 9 p.m. to show support and listen to stories of survivorship from gender-based violence in a Take Back the Night Speakout. Anyone interested can join the rally at the Quad or participate virtually. Participants may also submit anonymous survivor stories. YWCA counselors will be available for Telehealth sessions.
The events are sponsored by several offices at K including its Office of Sexual Violence Prevention and Advocacy. Learn more about its efforts during April, which is Sexual Assault Awareness Month, at sexualsafety.kzoo.edu.