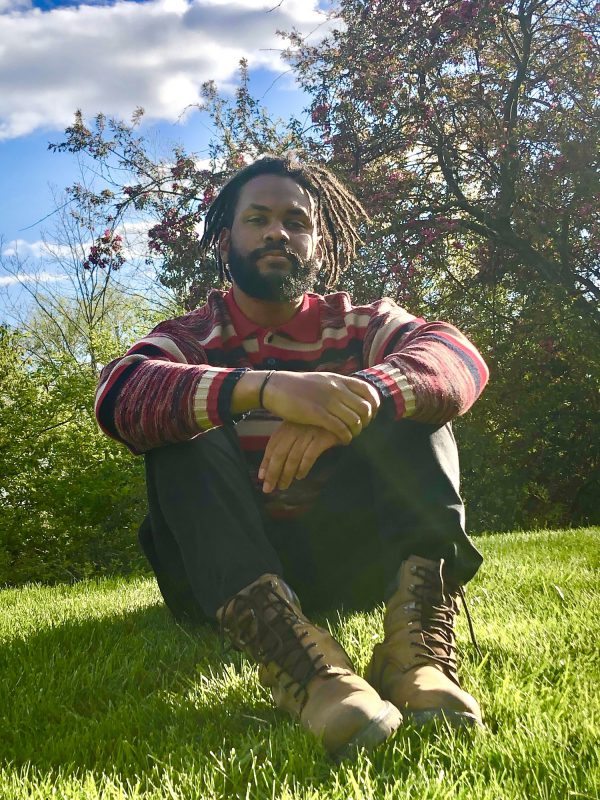 The list of 35 professionals receiving a National Endowment for the Arts (NEA) Creative Writing Fellowship this year has a distinct Kalamazoo College flavor.
In addition to Department of English Assistant Professor Oliver Baez Bendorf, poet and K alumnus Aaron Coleman '09 was chosen from more than 1,600 writers for a fellowship worth $25,000.
"It's something that I've dreamed about for a long time because of the folks who have stepped along this path before," Coleman said, while mentioning writers such as Professor Emeritus Diane Seuss and her mentor, Conrad Hilberry. "I also think of it at the most practical level. I know that this is going to help me create the next book project in ways that I know wouldn't be possible otherwise."
Coleman, who soon will earn a Ph.D. from Washington University in St. Louis, might be known most widely for his 2018 published poetry collection titled Threat Come Close. That collection helped him earn the Great Lakes Colleges Association New Writers Award for Poetry in 2020. The recognition means Coleman will visit GLCA member institutions, including K this spring, where he will give readings, meet with students and faculty members, and discuss his techniques and creativity in the writing process.
That writing process was greatly inspired by K faculty and the lessons he learned at the College.
"I do know I brought to K the seed kernel that developed into my deep love, appreciation and sort of wonder for the roles that language plays in our lives," Coleman said. "But during the time I was there, Diane Seuss was really someone who helped me gain confidence and trust that what I had to say was valuable, and that with a lot of work and learning about the tradition of poetry and the technique of revision that I could find a way to write and keep poetry at the center of my life."
The recognition from the NEA means Coleman will have new opportunities to pursue his own writing, including his next as-of-now untitled project.
"I'm calling my next poetry collection a multi-generational chorus of poems, because of the way that they speak to the lives and experiences of my family over the course of generations, based on both research and family stories," Coleman said.
The first poem from that collection, titled "Another Strange Land: Downpour off Cape Hatteras (March, 1864)," tells the story of Coleman's great-great-great-grandfather and is already published on the Academy of American Poets website.
"One of my cousins from Pennsylvania found his tombstone," Coleman said. "Its engravement said he was a part of the Pennsylvania 25th Colored Infantry, and I realized that he had fought in the Civil War. So that sent me scouring through military records trying to figure out where his unit was at different times, and that kind of blend of imagination and research is at the crux of this next collection."
Coleman is also currently translating a poetry book titled El Gran Zoo, by Afro-Cuban poet Nicolás Guillén. Guillen's poetry draws on disturbing realities to create a zoo of natural and humanmade wonders alongside a wealth of social and political issues.
In a news release regarding the fellowships, the NEA credits its fellowship honorees as writers who will enrich the world with their artistic contributions for years to come, an idea that helps Coleman feel he's successful.
"Art and poetry are a unique realm for understanding our emotions and identities," Coleman said. "It's a space where we can figure out ways to say things we have no other way to say. Success as a poet, for me, comes from just the investment in the lifelong apprenticeship of writing. It's in trying to grow as a poet and then seeing that reflected in the world. When people tell me my work matters to them and that it's valuable to their own journey, that's what feels like success to me."