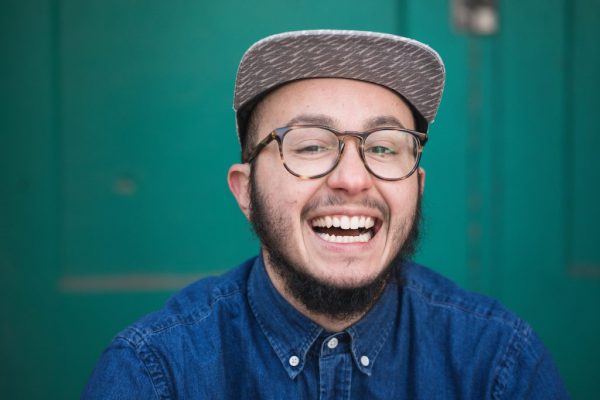 The National Endowment for the Arts today announced that Oliver Baez Bendorf, a Kalamazoo College assistant professor in the Department of English, is one of 35 writers who will receive a 2021 Creative Writing Fellowship of $25,000.
Baez Bendorf was selected from about 1,600 eligible applicants. Fellows are selected through a highly-competitive, anonymous process and are judged on the artistic excellence of the work sample they provided. The fellowships provide funding for recipients to write, revise, research and travel.
"I am honored and still in shock to have received this prestigious grant," Baez Bendorf said. The fellowship will help fund his work on a future collection of poems, including research travel when that becomes possible again after the pandemic. He hopes to go to Hessen, Germany, to visit the Ronneburg Castle, in which his father's ancestors took refuge from religious persecution. The castle now houses festivals and a falconry center.
Baez Bendorf is the author of two poetry collections, most recently Advantages of Being Evergreen, published in 2019. Jennifer Natalya Fink, a professor of English at George Washington University, described that book as a "wild queer reimagining of the potential of language to redress our past oppression and imagine new possibilities for gender, nature, and ecstasy."
In 2020, Baez Bendorf received the early career achievement award from The Publishing Triangle. His work has also garnered fellowships from CantoMundo, Vermont Studio Center and Wisconsin Institute for Creative Writing. His poems appear in recent or forthcoming issues of American Poetry Review, Interdisciplinary Studies in Literature and Environment, New England Review, Orion, Poetry, the anthology Troubling the Line: Trans and Genderqueer Poetry and Poetics, and other publications.
Since joining the faculty in 2018, Baez Bendorf leads the poetry workshops at Kalamazoo College and teaches introductory creative writing classes. In fall 2020, he taught a first-year seminar he designed titled "Romance and Revolution: The Life and Times of Pablo Neruda."
Outside the classroom, he has mentored K students in their pursuits of nature writing and literary editing. In 2019, he collaborated with colleagues across the college to host a celebrated writer on campus. A faculty research grant from the Arcus Center for Social Justice Leadership enabled him to participate in the New Orleans Poetry Festival, which featured his work in ecopoetics.
Baez Bendorf, who was born and raised in Iowa, holds a Bachelor of Arts in English Literature from the University of Iowa, and a Master of Fine Arts in Poetry and Master of Arts in Library and Information Studies, both from the University of Wisconsin-Madison.
The late Conrad Hilberry, a poet and beloved Professor Emeritus of English who taught at K from 1962 until 1998, also received a Creative Writing Fellowship from the Arts Endowment in 1984.
Since 1967, the Arts Endowment has awarded more than 3,600 Creative Writing Fellowships totaling over $56 million. Many American recipients of the National Book Award, National Book Critics Circle Award, and Pulitzer Prize in Poetry and Fiction were recipients of National Endowment for the Arts fellowships early in their careers. The full list of 2021 Creative Writing Fellows is available online.
"The National Endowment for the Arts is proud to support these 35 talented poets through Creative Writing Fellowships," said Amy Stolls, director of literary arts at the Arts Endowment. "These fellowships often provide writers with crucial support and encouragement, and in return our nation is enriched by their artistic contributions in the years to come."
Visit arts.gov to browse bios, artist statements and writing excerpts from a sample of past Creative Writing Fellows.