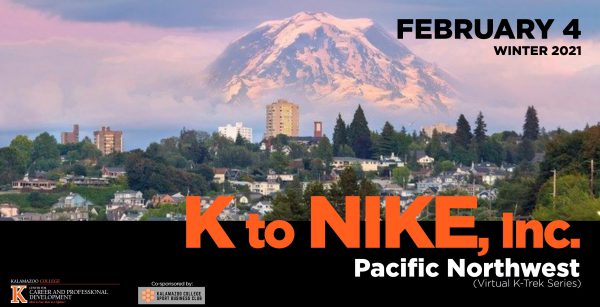 More students than usual will have a chance to participate in three K-Treks this term that will help them network with Kalamazoo College alumni and get to know what it takes to work at global companies such as Nike, Amazon and Starbucks.
K-Treks, offered through the Center for Career and Professional Development (CCPD), are traditionally career-immersion experiences in which students travel to explore jobs of interest. With virtual experiences this term, cost is not a factor in determining how many students can attend. A more expansive group can be included with all benefiting from enriching opportunities to make meaningful professional connections and get a feel for professional life at a specific business.
The events, collectively called K to the Pacific Northwest this term, begin with K to Nike from 3 to 4:30 p.m. this Thursday. K to Amazon, scheduled for 7:30 to 9 p.m. Thursday, February 11; and K to Starbucks, slated for Thursday, March 4, also are available.
"We tell students that the best path to landing a job or an internship is through one's network." CCPD Assistant Director for External Relations Valerie Miller said. "Recruiters might sift through hundreds of resumes for a single job posting, but someone in your network can open doors to unknown companies and opportunities. Even virtually, you can't beat an opportunity to meet K alumni and expand your network."
Students may sign up for any or all three of the experiences through Handshake at any time before that event begins. The Kalamazoo College Sport Business Club inspired K to Nike, although any student, regardless of their major, would benefit from attending. K to Nike, for example, will feature five alumni, none of whom majored in business. They are:
"Students will learn about the career paths of these successful alumni, what they like about they do, and how they use what they learned at K in their work," Miller said. "After a panel event with all alumni, students can drop into a breakout session with one of the alums to go deeper and learn about specific career paths."
Many might think of shoes when they hear the name Nike because the company grew with its founders— including then-University of Oregon track and field coach Bill Bowerman and one of his former students, Phil Knight — when they signed Steve Prefontaine, a young Olympic distance runner, to a footwear-endorsement deal in 1972. Yet the company's story is much more of a marathon than a sprint as today, nearly 50 years later, it seeks to bring innovation to every athlete through apparel, equipment, accessories and services available for any sport.
"Nike has a unique culture, and they have the most amazing campus," Miller said. "It's filled with every sport imaginable. I don't know many employers that have a swimming pool, basketball courts, athletic fields, running trails and more. In fact, Nike was named one of the happiest companies to work for in 2018. K to Nike is a rare opportunity for a student to learn how to say, 'hey, look at me,' to a Nike recruiter."
Learn more about this term's K-Treks at the CCPD website.