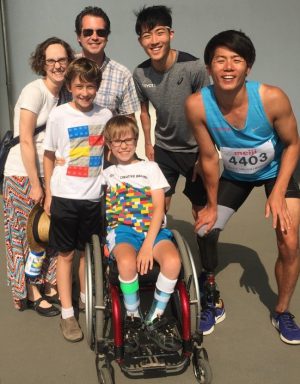 When most sports enthusiasts are thinking about the Super Bowl, a new book from a Kalamazoo College faculty member is focusing on a different kind of athletics competition and how it relates to creating a barrier-free society for those with disabilities.
Wen Chao Chen Associate Professor of East Asian Social Sciences Dennis Frost has unveiled More Than Medals: A History of the Paralympics and Disability Sports in Postwar Japan. The book addresses the histories of individuals, institutions and events that have played important roles in developing disability sports in Japan. Such events include the 1964 Paralympics in Tokyo, the Far East and South Pacific (FESPIC) Games for the Disabled, the Ōita International Wheelchair Marathon, the Nagano Winter Paralympics, and the 2021 Tokyo Summer Games.
Frost's first book, Seeing Stars: Sports Celebrity, Identity and Body Culture in Modern Japan, traced the emergence and evolution of sports celebrity in Japan from the 17th through the 21st centuries. The new book, he said, is an outgrowth of that project.
"Before I taught at K, I was a teaching fellow at my undergraduate alma mater, Wittenberg University, where I taught a class on sports in East Asia," Frost said. "Students were working on presenting a project about the Nagano Winter Olympics, and one asked if she could do her part of the presentation on the Paralympics. The student found a few media reports, but neither one of us was pleased with the limited information available on the Paralympics. So that was my first inspiration for this project."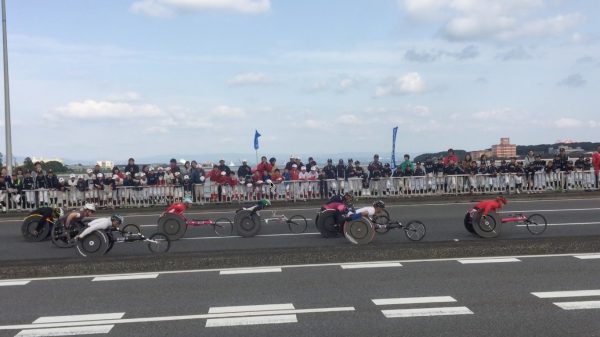 Frost's interest piqued further when his youngest son, who was born with spina bifida, began taking an interest in sports.
"He's played wheelchair tennis and sled hockey up in Grand Rapids, so I get to see some adaptive sports from his perspective, and then I'm doing my research more on the institutional side while talking about bigger scale events in Japan," Frost said. "In some senses, it's a project that has combined my personal and academic interests."
For More Than Medals, Frost conducted interviews with athletes such as Suzaki Katsumi, who participated in the 1964 Tokyo Paralympic Games, the first event of its kind in Japan. Suzaki started training in disability sports just a few months before the Games using therapeutic hot springs baths at his rehabilitation facility in Ōita, Japan. As a result, he was surprised that the pool water at the Paralympics was so cold.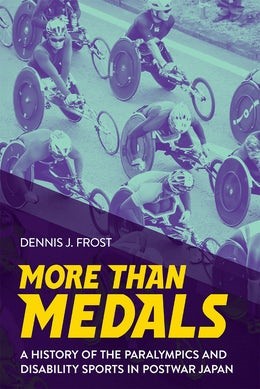 Such anecdotes show that in their early history events like the Paralympics were less about competition. Even today when the focus is more on elite-level competition, the significance of the Paralympics extends well beyond the playing field. Those were ideas echoed in recent years by Tokyo Governor Koike Yuriko, who recognized Japan's aging population when discussing her city's preparations for the Olympic Games.
"The success of the Paralympics is really the key to the success of the overall Games here," she said. "I believe putting weight on hosting a successful Paralympics is more important than a successful Olympics."
"Part of what I was interested in with this project is understanding how you go from a situation in the 1960s, where very few people in Japan actually knew what the Paralympics were, to a point where they're almost mainstream in Japan," Frost said. "In preparing for 2020, the Olympics and Paralympics were treated as a perfect pair, and everybody talked about both at the same time. In 60 years, they've undergone a pretty dramatic shift."
In general, Frost's research focuses on modern Japanese history with emphases on sports, disability, militarization, and urban development. At K, he teaches courses on premodern, modern and contemporary East Asian history with a particular focus on China, Japan and Korea. He also teaches first-year and sophomore seminars in the College's Shared Passages Program, as well as senior seminars for the History Department and the East Asian Studies Program. More Than Medals represents a Fulbright grant and a couple of National Endowment for the Humanities (NEH) grants that supported the project, several working trips to Japan, months spent in Tokyo with his family, and interviews with athletes, citizens and reporters, to compare a culture more adaptive to the needs of the disabled than what we traditionally might find in the United States.
"In Japan, in recent years there's been a lot of attention more generally even beyond the Paralympics, to how we create a society that is barrier free," Frost said. "That's both in terms of the actual physical structures like having curb cuts and escalators and elevators instead of stairs, and also in attitudes toward people that are different in whatever way from others. There's a lot of discussion about that in Japan. Some of those things are happening in some places in the United States, but in Japan, I think it's become much more widespread in recent years."
The book is available now through Cornell University Press.