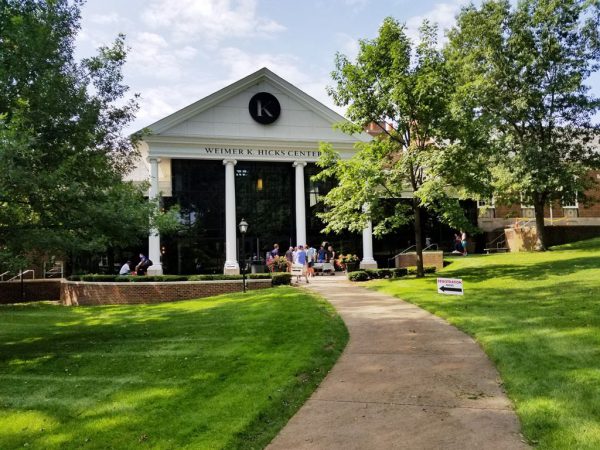 Kalamazoo College provides one of the most outstanding returns on investment in higher education, according to the Princeton Review. The education-services company profiles and recommends K in the 2021 edition of The Best Value Colleges, its annual guide to undergraduate schools.
The Princeton Review examined more than 650 institutions for this year's list and selected K among the top 200 colleges and universities. Kalamazoo College is one of just five Michigan institutions overall to be honored this year.
Colleges and universities were selected based on surveys of students and administrators that addressed academics, cost, financial aid, career services, graduation rates, student debt and alumni support. The Princeton Review also factored in data from PayScale.com surveys regarding alumni salaries and job satisfaction.
According to the College's profile at the Princeton Review's website, student respondents said K "allows students to really develop personal relationships with their peers and professors" and is "a campus run by and for the students." Students also said the open curriculum means they have more time to explore exactly what they want to learn.
"The schools we name as our Best Value Colleges for 2021 comprise only just over 1 percent of the nation's four-year colleges," Princeton Review Editor-in-Chief Rob Franek said. "They are distinctive in their programs, size, region and type, yet they are similar in three areas. Every school we selected offers outstanding academics, generous financial aid and/or a relative low cost of attendance, and stellar career services. We salute Kalamazoo College for these exceptional offerings and recommend it highly to college applicants and parents."
"The flexibility of the K-Plan, our approach to an excellent education in the liberal arts and sciences, allows us to seek out students with a broad array of interests, achievements and experiences," Director of Admission Suzanne Lepley said. "We strive to provide an excellent return on investment for all of our students as we help them grow as individuals and build skills employers want in their work force."
The Best Value Colleges is one of more than 150 books developed by The Princeton Review and published by Penguin Random House. Others that are resources on this topic include The Best 385 Colleges, which includes Kalamazoo College in 2021.