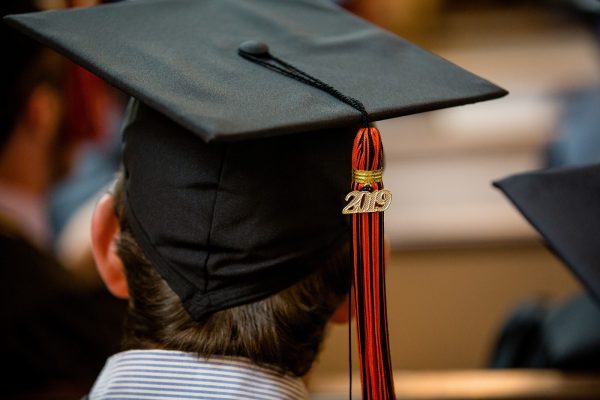 When Kalamazoo College students talk about what they need from their education and career preparedness, they can bet the Center for Career and Professional Development is listening.
The CCPD staff proved that this spring when seniors spoke publicly about the worries they have for life after K in the pandemic's wake, and in response, the CCPD unveiled plans for Senior Week, May 17-21.
The biggest highlight of the week will come from seniors meeting one-on-one in career-building sessions with K alumni. About 60 alumni already have agreed to participate in these Hornet Huddles from a variety of industries and fields, and more are expected.
Seniors can sign up now through Handshake with this how-to video as guidance. A list of the alumni volunteering is available with their companies and organizations, industries and job titles. The goal is to provide seniors new perspectives of how to reach success in the job market from alumni successful in similar fields. Some of the alumni are looking to specifically help students of color or first-generation students. Others are open to meeting with any senior. Registration will be available through May 14.
In addition, seniors also can expect guidance from career coaches, senior spotlights through social media and a push for students to respond to their first-destination surveys, which will help the CCPD guide seniors still looking for their first post-graduation jobs.
Guidance from career coaches
Career coaches are available to seniors year-round. During senior week, they're available exclusively to seniors. Coaches can help students take career assessments, choose from employment or graduate school options and improve resumes, cover letters, and personal statements. Available appointments are plentiful and drop-in hours will be available from noon to 1 p.m. daily through Teams.
First-destination survey push
When seniors complete the survey in spring, it tells CCPD staff what those still looking for their first post-graduation jobs need and how the CCPD can help. Staff have committed to follow up with every senior still looking, and they're offering a drawing for 10 $25 GrubHub gift cards for those who respond by May 21.
Senior spotlights
The CCPD's Facebook, Twitter, Instagram and YouTube channels will feature content during Senior Week that is specifically geared toward seniors.