The publisher Sourcebooks announced Tuesday that Kalamazoo College again is included in the annual "Fiske Guide to Colleges," a useful resource for high school students and their families when they research prospective colleges.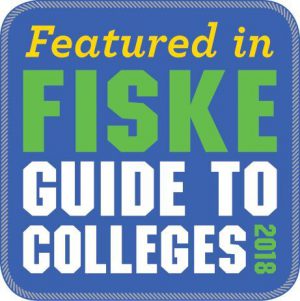 The 2018 publication, compiled by former New York Times Education Editor Edward B. Fiske, is a selective, subjective and systematic look at more than 300 colleges and universities in the United States, Canada and the UK.
The "Fiske Guide to Colleges" is available as a paperback book, as an iPad app on iTunes, and as a Web program on CollegeCountdown.com. The guide's readers discover the personality of a college based on a broad range of subjects throughout the text including the student body, academics, social life, financial aid, campus setting, housing, food and extracurricular activities.
Kalamazoo College "aims to prepare students for real life by helping them synthesize the liberal arts education they receive on campus with their experiences abroad," the publication says, adding that K students are passionate and determined to make a difference. The guide also discusses the K-Plan, Kalamazoo College's four-part, integrated approach to an excellent education in the liberal arts and sciences. K-Plan tenets include: