A 2017 Kalamazoo College graduate has been published in Angewandte Chemie, a German international chemistry magazine, for his senior individualized project (SIP) involving how prescription medications interact with the human body.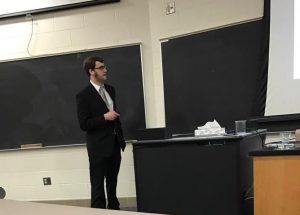 John Bailey, who was a chemistry major and math minor from Midland, Mich., performed research through a group at Michigan State University focusing on aromaticity. The term describes a ring-shaped molecule that exhibits more stability than other connective arrangements with the same atoms.
The research and resulting chemistry magazine article highlights how stability involving aromaticity could allow a greater range of choices in a pharmaceutical's design, maximizing the drug's effect in a targeted human system without harming other systems in a patient's body.
The article, titled "High-Field NMR Spectroscopy Reveals Aromaticity-Modulated Hydrogen Bonding (AMHB) in Heterocycle," has no immediate effect on how drugs are formulated or prescribed. Still, the results could one day have strong clinical implications for treatment courses such as chemotherapy. As a result, the research doesn't stand to make Bailey famous, but a positive advancement in medicine one day will have been the result of many people like Bailey collaborating and building on each other's work.
"It feels good to have work I've done out there that could be helpful to other humans," he said.
Bailey is in Kalamazoo for at least an additional year, but would eventually like to attend graduate school and end up professionally as a leader in a research lab. He credits Chemistry Professor Jeffrey Bartz and Math Professor Eric Barth for giving him the guidance and encouragement he needed to succeed with his SIP.
"Hopefully, I will have enough knowledge I can be an effective member of my community professionally and nonprofessionally," Bailey said. "I think K did a good job letting me understand how big a place the world is and how much I need to be humble. I want to keep working hard because no one is ever done growing."