Kalamazoo College student Peter Rossi '18 is among the first students to take advantage of a new internship program that teaches students about the mortgage industry.
Rossi, a computer science major and music minor from Kalamazoo, is one of nine college juniors and seniors learning career skills this summer through AmeriFirst, a mortgage banker in Kalamazoo. The students, who were chosen from more than 50 applicants, work in marketing, information technology, appraisals, human resources and legal/compliance. The program began in May and continues through August.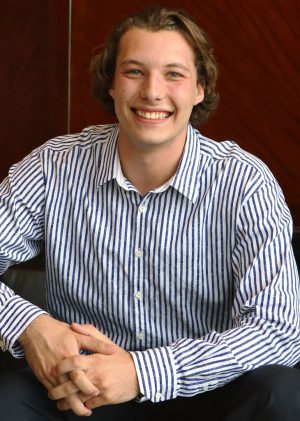 "The work environment at AmeriFirst is extremely unique because my work is directly applicable to the company," Rossi said. "They're willing to value my opinions even at the highest level, which pushes me to work hard."
Rossi's job in information technology includes communicating with various departments around AmeriFirst to help the company build an intranet platform that suits employees' needs. He also has duties involving business process modeling, which is a method of mapping processes to help make an organization's workflow more effective and efficient.
Rossi said there are three divisions within IT at AmeriFirst including:
a technical-support division;
a network administration division, ensuring that servers are protected and company information is properly encrypted; and
Rossi's division, which offers a mix of continuous improvement and project management.
"There are a lot of departments that have interns, but the IT department has a way of making every day interesting and fun," Rossi said. "We really go out of our way to interact and have a good time."
A weekly lunch-and-learn program encourages community and builds cohesiveness among the interns across departments. During these 60-minute sessions, members of senior management provide industry and life-skills education along with overviews of their respective areas of expertise. A recent highlight included a session with Chief Executive Officer Mark Jones, who shared his passion and business philosophy with the students, who appreciated his time.
"AmeriFirst is going out of its way to see that young talent stays here, which I think is amazing," said Rossi, a Loy Norrix High School graduate, Heyl Scholar and a member of K's swimming and diving team. He added he hopes he can take the experiences he has gained so far and continue to be successful moving forward.
Before launching the internship program, AmeriFirst Staff Recruiter Kelly McConnell and coworker Nicole Waterbury connected with local college career departments, including K's Center for Career and Professional Development (CCPD), and reached out to other corporations running successful internship programs. Although Rossi first heard of the internship opportunity through a friend's dad, he said CCPD was integral in helping him prepare his résumé and learn how to network.
Rossi said he would encourage other students thinking about the AmeriFirst program in the future to "absolutely apply. If you can get in, they really take care of you. It's a diverse workforce, and a majority of employees are women at the home office, even among the senior leadership team. For me that creates an amazing community atmosphere that also has a young, energetic vibe."
For more information on internships at AmeriFirst, contact McConnell at 269-324-4240, ext. 12020, or recruiter@amerifirst.com.