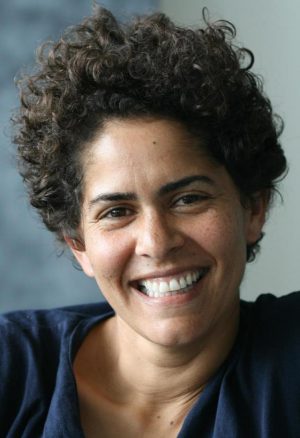 A Kalamazoo College alumna is receiving attention from publications including Architectural Digest and the New York Times for her latest artwork, a commission for the San Francisco Museum of Modern Art.
Artist Julie Mehretu '92, of New York City, has worked for the past 14 months at a deconsecrated Harlem church on two towering paintings measuring 27 feet by 32 feet that required a scissor lift to develop.
Since graduating from K with a degree in art and art history, Mehretu has become one of the leading contemporary artists in the United States. She has received international accolades for her work, with her honors including the American Art Award from the Whitney Museum of American Art and the prestigious MacArthur Fellow award.
Mehretu recently shared a testimonial of the liberal arts including her Kalamazoo College experience with the Council for Independent Colleges.
"The liberal arts experience gives you the opportunity to learn, to fail, to succeed, to really find out who you are," she said. "When I reflect on how my artistic work has progressed, I think of those early years at Kalamazoo College. My artistic process takes both intense thought and impulse. Balancing this has taken time and evolved over the years. It happens in all kinds of different ways. I'm making all these decisions, determining one thing at a time, and not even so much determining as understanding. I think that's what Kalamazoo College was for me: a place to begin to understand."
The final products of her latest efforts will be on display at the San Francisco museum for more than three years beginning Sept. 2. Read more and take a sneak peek of the paintings at the New York Times and Architectural Digest websites. The San Francisco Museum of Modern Art also has a news release at its website.