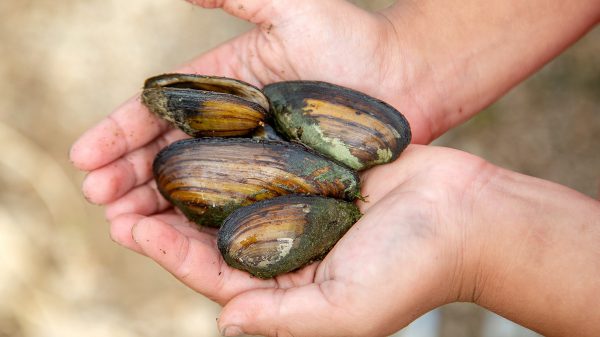 Without study abroad available this year, Kalamazoo College faculty and staff got creative and developed a series of internships for 20 juniors who otherwise would've spent a term overseas, giving them experience through campus partners such as the Center for International Programs, Center for Career and Professional Development and the Center for Civic Engagement.
An additional group of students, whose interests could be connected with environmental opportunities, worked with the Center for Environmental Stewardship and Director Sara Stockwood.
"I think it's been a valuable experience for everyone, even if they didn't go on study abroad," Stockwood said of the students who worked for organizations such as the Kalamazoo Watershed Council, the Michigan Lakes and Streams Association and Sarett Nature Center.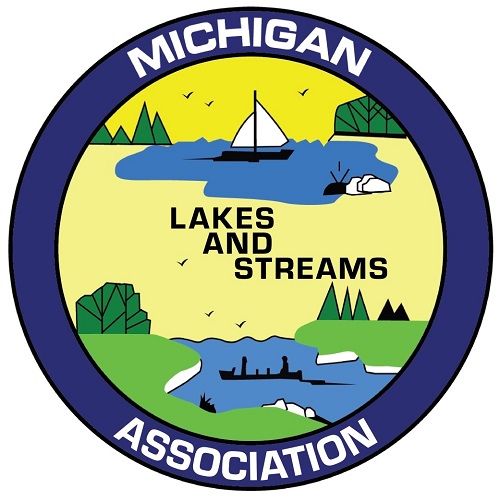 "The students I've talked to said they've wanted to get an internship before, they just weren't sure how to make it fit in their academic plan," she said. "But when this class came up it fit well and it matched their class schedule. It was a challenge for them to figure out how to work virtually, and some of them felt a little lost at first, yet they gained the skills they needed to figure it out. I think that will help them in their classes and future jobs, especially if they have virtual components."
Amanda Dow, a biology major, worked with Melissa DeSimone, the executive director of the Michigan Lakes and Streams Association (MLSA), which is a statewide nonprofit that unites individuals; lake, stream and watershed associations; organizations; and corporations that share an interest the preserving inland lakes and streams for generations to come. Her work experience included writing newsletter articles highlighting the organization's virtual convention this year, contributing to its printed articles, and reformatting and updating several brochures.
"I have a background in writing so this was a good chance for me to practice in different mediums," Dow said. "I wrote a review of the convention sessions along with a biography of myself for the newsletter. They also come out with a newspaper and the biggest chunk of my internship went to updating and reformatting their brochures. It helped a lot that when I first got there I could choose what I wanted to do."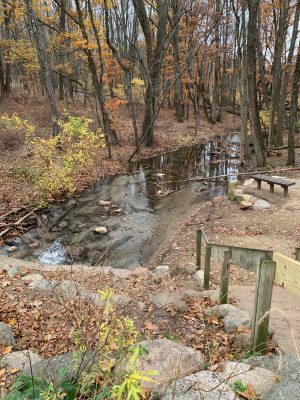 Andrew Wright, a German and biology major, said he felt a little directionless with where he wanted to apply his majors professionally after graduation, until he interned with the Kalamazoo River Watershed Council. The organization aims to protect, preserve and promote the Kalamazoo River and its tributaries for current area residents and future generations.
"Through developing a new interactive digital dashboard with the Kalamazoo River Watershed Council members, my work will help users see the different types of chemical contaminants in the Kalamazoo area and how they affect the types of fish here," Wright said. "Following the motto of the Watershed, we want to make that information as accessible as possible so people can learn how their communities' ecosystems have been impacted. The Kalamazoo River has unfortunately suffered its fair share of PCB runoff from paper mills and oil spills, and we want to create ways for people to be knowledgeable and be mindful of how we affect our surrounding environments."
Natalie Barber, a biology major and psychology minor, joined Wright in working for the Kalamazoo River Watershed Council. She researched fresh water mussels, which filter small organic particles such as bacteria and algae out of lakes and streams, naturally purifying them. Part of that environmental research involved interviewing Daelyn Woolnough, a Central Michigan University biology faculty member and freshwater mussels expert, leading to website content and social media posts for the watershed council.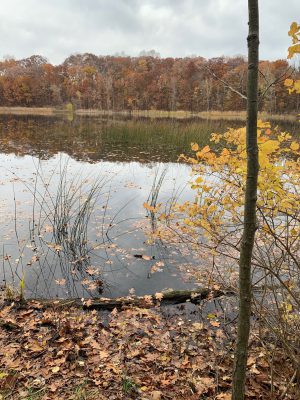 With K's academic schedule, it was important to Barber that she could undertake the internship as a part of her term and she hopes more students at the College will have the same opportunity.
"It's important we know the effects of global warming and climate change and how they threaten mussels," Barber said. "We especially have those threats in Kalamazoo because we had the paper mills that put all the PCBs in the water, plus we had the 2010 oil spill. Just knowing about those bigger issues, and also the lesser-known issues like invasive species, which is a big deal to freshwater mussels. Things the general public might not realize are such a big deal like moving boats from lake to lake without cleaning them, that's important information we should share so we can protect the organisms within our areas. I felt like I was doing something positive toward my career goals. I think these internships should be offered every term because I thought mine was that useful."
To conclude the class and their environmental internships, each student provided a final visual presentation with screenshots and pictures from their projects. Stockwood said students each had about three minutes to present what they did, what they learned and why it matters.
"They took it very seriously and it was fun because the students didn't fully know what everybody else was doing," she said. "They found a lot of similarities in their experiences over time with being lost in the beginning, independently working and having some ownership by the second half of their projects. I hope something like this will continue. It's important to recognize that it's not study abroad, but I think the experience was valuable, and I think the students feel it was valuable, too."