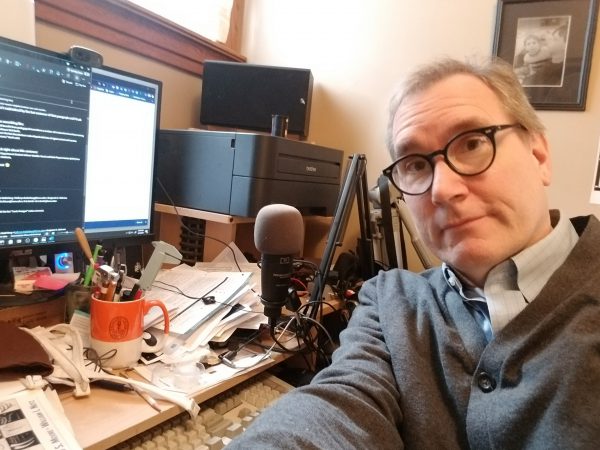 A social media meme circulating of the late children's TV star Mr. Rogers is reminding people to "look for the helpers" in a crisis. When that crisis is COVID-19, which has forced Kalamazoo College to switch from in-person to distance learning this spring, those helpers for students are K faculty and staff.
Distance learning, defined as cooperative educational experiences between people physically separated, is uncharted territory at most liberal arts institutions. That includes K, which prides itself on face-to-face interactions between students and faculty, and personalized experiences. Yet while students adjust, optimistic and dedicated faculty are ensuring that learning opportunities will proceed smoothly when the term starts in April.
Regardless of a student's need—whether it's technology access, academic requirements, concern over tutoring and office hours, or something unexpected—faculty want students to know their professors are eager to provide support and direction, and ensure a breadth of educational experiences true to the liberal arts.
Jeff Bartz, K's Kurt D. Kaufman Professor of Chemistry, said he and his colleagues are communicating regularly with tools such as Slack, an instant messaging app, while reaching out to students through email and social media. One recent tweet that included a picture of chemistry faculty dressed as Alice in Wonderland characters for a costume contest said: "Hey, Kalamazoo College chemists. This group may be a bunch of characters, but we'll help you get through this."
Bartz is designing a physical chemistry course in two-week modules that will address topics such as climate change, the hole in the ozone layer, and energy and fuel efficiency.
"The hard part for a chemist is that laboratory work is a big part of what we do," Bartz said. "We've considered doing laboratories here and pushing out the data to students. We might set up students for experiments where they already have the material at home, or send them the material they need through the mail. I think my colleagues are doing a really good job figuring out those things.
Assistant Professor Kathryn Sederberg said the creativity ongoing in the Chemistry Department is also common in the German Department. She regularly teaches courses from first-year seminars and beginning German to intermediate German and contemporary German culture.
"We're thinking, for example, that students might pair up and have video chats in German using the apps they already use to communicate with distant family and friends," Sederberg said. "We will also rely on the platforms we have been using for years as a complement to classroom work, like discussion boards."
Sederberg also is drawing inspiration from faculty at other colleges and universities.
"We are reading and sharing articles about best practices for quickly transforming courses into online formats," Sederberg said. "Distance learning won't replace the face-to-face instruction we do so well at K, and part of what makes our program so strong is the work students do with each other on campus. However, this pandemic is an unprecedented global crisis, and we will get through it together. And we will really celebrate when we're back together on campus in Kalamazoo!"
The move to distance learning in many courses will benefit from pedagogical innovations a number of K instructors have been moving toward in recent years, such as those of Math Professor Rick Barth.
"My spring course is a statistics course that has, over the last decade, been redeveloped with lots of digital content and remote learning, sometimes referred to as a flipped classroom," Barth said.
However, as the Assistant Provost for Teaching, Learning and Assessment, Barth is aware students are concerned about whether they will receive the same peer tutoring that they would in person. But Math Department Student Advisor Maddie Ward and Math-Physics Center (MPC) Peer Instructor Ben Behrens will continue serving other students.
"All the consultants know how many people depend on the MPC for help in their classes, and we will do whatever we can to help everyone with online learning," Behrens said.
"Our big task is to imagine how we'll each pivot to bring our accumulated experience to help students learn without face-to-face classes for a time," Barth said. "In my view, this may well be the singular defining challenge of our careers as teachers. During this time, I'm glad to be at K with wonderful and supportive faculty colleagues. It brings me great optimism to imagine this special group of scholars and teachers bringing our best to this challenging new task."
Students and faculty will also be supported by Information Services staff such as Education Technology Specialist Josh Moon. Moon helps faculty integrate tools such as Microsoft Teams, a virtual space for chats, audio calls and video calls, and Moodle, an online classroom environment, into learning plans.
"I have a strong hunch that weeks three through five [of the term] will be much easier for everyone than maybe the first two" in the term, Moon said. "However, students will probably find that this helps them develop communication skills that will benefit them in their careers."
All three professors said the key for students will be maintaining individual communication through tools such as email, and being patient with each other and faculty and staff this term.
"This is a spring of gracious living," Bartz said. "But it could be an opportunity for us as faculty to connect with students even better than when they're so busy with all the things they're normally doing on campus. It's going to require more time on my end than normal, but it's because I care a lot about the education of my students."