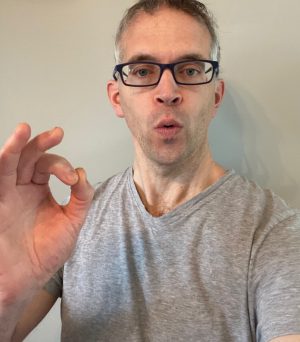 When Kalamazoo College moved to distance learning for the spring term, Assistant Music Professor Chris Ludwa was initially wary about how his day-to-day teaching could change. As the director of K's College Singers, Lux Esto Chamber Choir and Kalamazoo Bach Festival, Ludwa has maintained a constant belief in the power of connections formed during rehearsals — to him, the laughter, jokes and camaraderie students develop there are fundamental to K's strong singing community. "Without shared rehearsals, shared time and shared meals in Hicks, people may feel disconnected," Ludwa recalled thinking, "and in choral singing, a large part of what we do is to connect with one another."
Ludwa's solution demonstrated the flexibility and innovation that defines Kalamazoo College faculty. The plan to institute a virtual choir was borne of Ludwa's admiration for composer Eric Whitacre. (Ludwa calls him "a hero in the choral world.") "The difference is that Whitacre never had to do a virtual choir — he chose to do it," said Ludwa. "But our goals are the same. We want to connect people from wide-ranging backgrounds and global locations, and keep people singing."
To begin, Ludwa is recording himself as he conducts a piece of music. Then, he'll email the recording to his choir students, each of whom will be tasked with recording their own separate and different parts of the composition. By simply using their laptops, headphones and cell phones, students will record themselves singing their parts and return the audio to Ludwa, who will mix all of his collected student voices down into one final version. The project has given Ludwa a chance to push his own abilities, too. "I'd ordinarily hire a recording engineer to mix this kind of thing," he admitted. "But thanks to media services and the technology K provides, I'm able to learn how to do it myself."
Ludwa also plans to maintain one-on-one connections with his students, as well. He hopes to check in with students four to five times over the term as a group in order to hear their feedback on the process and how things are going in their isolation. These check-ins are part of the course grade, just as submitting recordings is. Consequently, students will essentially be receiving an individual voice coaching, more than they would during traditional, in-person choral rehearsals. "It's essentially a private coaching session and they're getting a different experience than they normally would, tailored to each one of their voices," said Ludwa.
Even as the K community transitions to distance learning, it's clear that the rest of the world is continuing to make its own adjustments. Ludwa is aware of these changes; it's yet another reason he believes the virtual choir will provide a positive experience for K students. "Any sense of rationality and normalcy is going to be important for well-being," Ludwa said. "My hope is that students in virtual choir continue to develop the sense of connection with each other that they may not get otherwise, and are able to approximate the larger community at K. We'll get through this together in a positive, constructive way, albeit through a different medium."
To experience one of Eric Whitacre's virtual choirs, visit his website.