The opportunity to present to and learn from pharmaceutical professionals is normally reserved for graduate students, professional scientists and postdoctoral fellows. For Kalamazoo College chemistry students in Dorothy H. Heyl Professor of Chemistry Laura Furge's lab, attending the Great Lakes Drug Metabolism and Disposition Discussion Group annual meeting as undergrads is a tradition that opens doors and underscores their passion for science.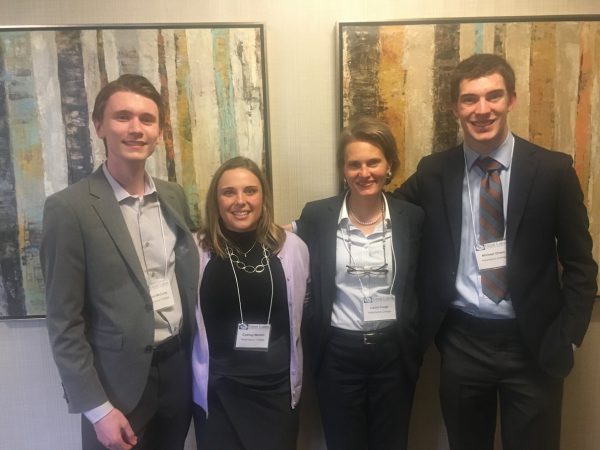 Three students attended the spring meeting on May 9 and 10 in Ann Arbor. Furge's students, known for their research excellence, have had several opportunities in recent years to show off their work regarding the P450 enzyme, which catalyzes drug-metabolism reactions, with implications toward drug discovery.
This year's K representatives included Cydney Martell '19 of Gull Lake, Michigan; Kevin McCarty '20 of Clarkston, Michigan; and Michael Orwin '20 of Portage, Michigan.
"I feel I was really fortunate to get into (Furge's) lab," said Martell, whose connection with Furge also helped her secure an internship last year with Eli Lilly, a pharmaceutical company headquartered in Indianapolis and committed to discovering medicines for people around the world. "The most rewarding thing about the conference is our ability to network with individuals and build important relationships. It's nice to be able to have that connection and be on equal ground. It's a love of science that facilitates our ability to work across experience levels."
Martell will seek a Ph.D. in biochemistry at Northwestern University beginning this fall.
The poster presentation McCarty made from his research in Furge's lab will evolve into his Senior Individualized Project this summer, he said, which is a testament to Furge's guidance.
"Instead of telling you how to do things, she'll ask you questions, engaging you in the work," McCarty said. "She gives you the freedom to do every part of the research you can by yourself, which helps you understand and take away what's important."
In fact, McCarty has been so happy with his experiences in the chemistry program at K, the drug-metabolism conference and in Furge's lab, he'd tell prospective students considering K to also major in chemistry.
"I would tell them, 'you'd be surprised by all the opportunities you'll have,'" McCarty said. "When I first considered K, I heard all about our small class sizes and the faculty. What they didn't tell me is how many opportunities there would be to work with faculty members like Dr. Furge or in a lab like hers."
Orwin echoed his peers' excitement for attending the conference and appreciation of Furge's leadership in their lab at K.
"I really loved attending the conference and it was a great undergraduate experience being able to present my work to industry professionals," Orwin said. "Overall, I find the most exciting part of research is the ability to contribute to our collective knowledge alongside being able to share one's passion with others. I find myself very fortunate for being able to have this experience."