Kalamazoo College will welcome Kenneth G. Elzinga, Ph.D. '63 as its 2019 Commencement speaker on Sunday, June 16.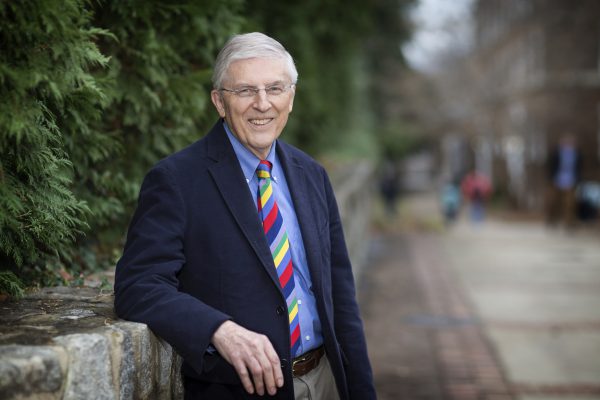 Elzinga, the Robert C. Taylor Professor of Economics at the University of Virginia, is a renowned teacher and a leading authority on antitrust policy, writing for numerous journals, including the American Economic Review, the Journal of Law and Economics, and the Harvard Law Review. He has served as a special economic advisor to the Antitrust Division of the U.S. Department of Justice and has testified in numerous precedent-setting cases, including three U.S. Supreme Court cases.
At the University of Virginia, Elzinga has taught economics to more than 47,000 students. In 2017, an endowed chair was named in his honor, celebrating a career that's been recognized through many awards, including the Commonwealth of Virginia's Outstanding Faculty Award and the University of Virginia's highest honor, the Thomas Jefferson Award. The Southern Economic Association's annual teaching award is also named after Elzinga.
In addition to his distinguished teaching career, Elzinga is known for co-authoring murder mysteries under the pen name Marshall Jevons, featuring a sleuth who solves crimes using economic theory. The books Murder at the Margin, The Fatal Equilibrium, A Deadly Indifference, and The Mystery of the Invisible Hand were written with the late Trinity University professor William Breit, with whom he also co-edited The Antitrust Casebook: Milestones in Economic Regulation. The novels have been translated into seven languages and have appeared on the reading lists of many college courses.
Elzinga graduated from Kalamazoo College in 1963 and went on to earn his Ph.D. in economics from Michigan State University in 1967, joining the University of Virginia faculty that year. He has also taught at MSU, Pepperdine, Cambridge and Trinity Universities. In 2000, he was awarded an Honorary Doctorate of Humane Letters from Kalamazoo College.
"Ken Elzinga represents the best of where a liberal arts education can lead you," said Kalamazoo College President Jorge G. Gonzalez. "Born in a working-class neighborhood in Kalamazoo, he embraced his time at K and went on to achieve phenomenal success in economics, teaching and writing—blending his passions in creative ways that have inspired students for more than 50 years. We are honored to welcome him back to campus as our Commencement speaker."
The 2019 Commencement at Kalamazoo College is scheduled for 1 p.m. June 16 on the College Quad.