Kalamazoo College's 2019 Commencement will take place at 1 p.m. Sunday, June 16, on the campus Quad. A total of 300 members of the class of 2019 are expected to participate in the ceremony with biology, psychology and business representing the most popular majors.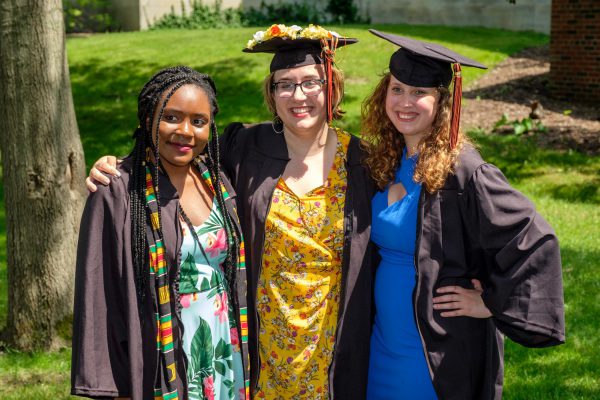 Kalamazoo College President Jorge G. Gonzalez will welcome graduates along with about 2,000 family members and friends, faculty, staff, trustees, alumni and community members. A livestream of the ceremony will be available.
This year's class includes:
174 Michiganders;
students from 26 states including Illinois and California;
students from eight countries including China and India; and
117 double majors and one triple major.
Rain Location
If inclement weather forces the ceremony indoors, it will take place at Anderson Athletic Center, where tickets will be required for entry. Each senior will receive six tickets that will be distributed at the mandatory senior rehearsal at 4 p.m. Thursday, June 13. Some additional tickets will be available at the rehearsal if students need more. If events are forced indoors, graduating students will receive an email Sunday with that information. Such an announcement would also be made at K's Facebook, Twitter and Instagram pages.
2019 Commencement Parking
All faculty, staff and student parking lots will be available to families and guests. Click the link with the title of each lot below to see its location on our interactive map.
Vehicles must be parked in marked stalls. Permits are only required for handicapped spaces. If you choose to park in a surrounding neighborhood, please note all posted regulations, which are maintained by the City of Kalamazoo.
Handicapped Guests and Parking
Limited handicapped parking spaces are clearly marked and available throughout campus, both on streets near campus buildings and in campus lots. Handicapped spaces are reserved for vehicles with a state permit.
Due to limited handicapped parking, a designated drop-off area will be available on Campus Drive in front of Hoben Hall, accessible from Academy Street. Families may drop off guests for barrier-free access to the Quad before finding parking elsewhere on campus.
A designated seating area will be available for guests in wheelchairs on the northeast side of the Hicks Center. Families with guests in wheelchairs who would like to reserve seating in this area should contact Kerri Barker at 269.337.7289 or kerri.barker@kzoo.edu. Guests in wheelchairs who wish to sit with their entire party elsewhere on the Quad may do so.
Barrier-free restrooms are available at Olds Upton Hall at the south side of the building, near the main entrance at the Hicks Center, and in Stetson Chapel at the south side of the building.
Keynote Speaker
Kenneth G. Elzinga, Ph.D. '63 will serve as the Commencement keynote speaker. Elzinga is the Robert C. Taylor Professor of Economics at the University of Virginia and a leading authority on antitrust policy, writing for numerous journals, including the American Economic Review, the Journal of Law and Economics, and the Harvard Law Review. He has served as a special economic advisor to the Antitrust Division of the U.S. Department of Justice and has testified in several precedent-setting cases including three U.S. Supreme Court cases.
Elzinga has co-authored murder mysteries under the pen name Marshall Jevons. His books feature a sleuth who solves crimes using economic theory. The books Murder at the Margin, The Fatal Equilibrium, A Deadly Indifference and The Mystery of the Invisible Hand were written with the late Trinity University professor William Breit.
K awarded Elzinga with an Honorary Doctorate of Humane Letters in 2000.
Honorary Doctorate
Author Leslie Jamison will receive an Honorary Doctorate of Humane Letters. Jamison wrote the 2014 book The Empathy Exams, which the graduating class read as first-year students for the summer common-reading program. The book involves a collection of essays that ask how people should care about each other as she reflects on her own experiences of illness and injury.
Jamison — a Washington, D.C., native raised in Los Angeles — also wrote a novel titled The Gin Closet (2010) and a nonfiction book titled The Recovering: Intoxication and its Aftermath (2018). She is a 2004 graduate of Harvard College and currently serves Columbia University as an assistant professor and the head of its nonfiction concentration. Her next book of essays, titled Make it Scream, Make it Burn, is due out in September.
Student Speaker
The 2019 Commencement student speaker is Angelica Rodriguez, who is graduating with majors in biology and critical ethnic studies. She studied abroad in Budapest, Hungary, and her Senior Individualized Project focused on using critical ethnic studies theories and frameworks to analyze biomedical research practices and explore both her majors. While at K, Angelica was involved in many activities, including the West African Percussion Ensemble and working at the Writing Center.
Senior Awards Ceremony
The Senior Awards Ceremony will be at 1:30 p.m. Saturday at Stetson Chapel. The awards include honors in all academic divisions, prestigious scholarships and special non-departmental awards.
Baccalaureate
Baccalaureate, a non-denominational service with student and faculty speakers and musical performances, will be at 8 p.m. Saturday, June 15, at Stetson Chapel. Seating will be on a first-come, first-served basis.