Registration for Career Summit 2018 is now closed. Students who are interested in attending but have not registered are welcome to stop by the registration table in the Hicks Student Center atrium before the session they would like to attend. Walk-ins will be accepted as space permits, especially on Saturday. See the Career Summit schedule online by clicking on 'Agenda.'
A distinguished group of alumni will join Silicon Valley executives and venture capitalists for Career Summit 2018. The event is two days of practical preparation April 6 and 7 for Life after K. Bill Duane '94 is the first in a series of features that will highlight our speakers for the event. To learn more, visit our Career Summit 2018 news story.
Bill Duane '94
Retired Superintendent of Well-Being at Google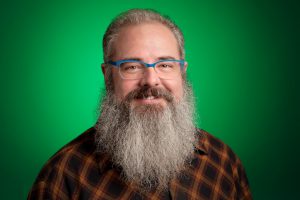 Bill Duane works at the intersection of individual resilience and organizational effectiveness, particularly in innovative and/or chaotic environments. As an engineering executive for Google earlier in his career, Bill was responsible for worldwide production engineering for Gmail, G Suite and WebSearch Infrastructure, leading a team of 130 people across five countries.
Though an amazing, interesting and rewarding ride, it also contained more burnout than was OK, which sparked a curiosity about how burnout worked. As he investigated burnout, Bill discovered a deep interest in the biological, psychological and interpersonal mechanisms of happiness, effectiveness and well-being which led him to create the role of Google's Superintendent of Well-Being. At Google, he and his team created worldwide programs to move the needle on well-being at the individual, team and organizational level, partnering with various teams in the Google ecosystem to make it part of the culture.
After 12 years at Google and 25 years in corporate environments, he is taking his expertise to a more diverse set of individuals and organizations. Bill earned a bachelor's degree in sociology and anthropology from Kalamazoo College.
Bill is scheduled to speak in these Career Summit sessions:
Dinner and Opening Plenary, 6 p.m. April 6
Mentoring Matters: What You Gain from Trusted Advisers, 10 a.m. April 7
Tips for Bringing Your Identity to Work, 10:45 a.m. April 7
Serendipity: Making the Most of Unexpected Opportunities, 11:30 a.m. April 7.
Other Scheduled Speakers