For David Kung, the relationship between math and music goes far beyond alliteration.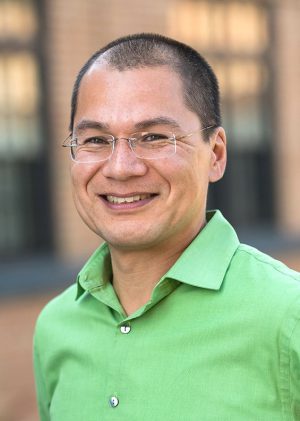 The star of a series of popular video lectures explaining the applications of mathematics to the world around us, especially music, Kung will deliver the annual Kitchen Lecture, sponsored by the Kalamazoo College Department of Mathematics, at 8 p.m. Wednesday in Stetson Chapel.
A math professor at St. Mary's College of Maryland, that state's public liberal arts institution, he grew up studying violin while developing a passion for math. He says that at age 16, he had to decide which field to pursue professionally. Although he chose math, he never gave up music.
"While pursuing a doctorate in math, I always made sure to keep up my violin chops — or not let them fade too badly," he says on his website about mixing math and music. "Now I get the privilege of traveling around the country giving talks and performances about the connections between these two beautiful subjects."
He has authored a variety of articles on topics in harmonic analysis and mathematics education. His series of Great Courses lectures, "How Music and Mathematics Relate," is a top math and science seller for the Teaching Company.
Performing and explaining, he discusses — for example — how the math that explains the movement of electrons also lets us understand why a particular string on the violin vibrates at a certain pitch, and why a clarinet's tone is so much lower than that of a flute. He also explores how the brain recognizes harmonics and other musical patterns the same way it recognizes numerical patterns, and how errors in that pattern recognition lead to auditory illusions, tricking the brain into hearing something that isn't there.
In addition, he uses abstract algebra to provide insight into the structures beneath the surface of Bach's canons and fugues.
Kung holds bachelor's and master's degrees and a Ph.D., all in mathematics, from the University of Wisconsin–Madison. At St. Mary's, he is a full professor and chairman of the Department of Mathematics and Computer Science. He also serves as director of the Mathematical Association of America's Project NExT, a professional development program for new faculty in the mathematical sciences.
The George Kitchen Memorial Lectureship was established at Kalamazoo College in 1999 to honor George Kitchen, a mathematician and teacher at Portage Northern High School in Portage, Michigan. Kitchen, who died in 2011, was married to Susan Kitchen '60, who died in 2017.
The purpose of the lectures is to provide an opportunity for high school students and mathematics educators to hear mathematicians speak about their own or related work at a level intended for high school students.