When Kalamazoo College alumnus Mark Ghafari '14 recalls researching what school he wanted to attend, he remembers he wanted a small college known for excellent academics.
"I came from a graduating (high school) class of 55 kids," said Ghafari, a financial advisor for Merrill Lynch in Grand Rapids, who grew up in Grosse Pointe Shores, Michigan. "Even a school like Kalamazoo College was going to be a big jump for me."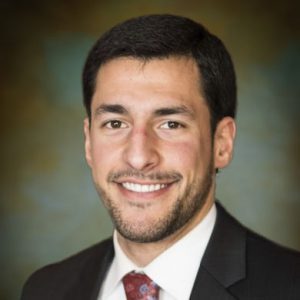 Still, K itself turned out to be a perfect fit and so was the K-Plan, K's four-part, integrated approach to academics, which provides an excellent education in the liberal arts and sciences. A combination of liberal arts opportunities, small class sizes with a student-to-faculty ratio of 13-to-1, and rigorous, hands-on coursework challenged Ghafari. Plus, the customizable K-Plan allowed Ghafari to major in economics, play men's basketball for four years, study abroad in Strasbourg, France, with travels through Belgium and the Netherlands, and learn about internships while working in the Center for Career and Professional Development.
"In my opinion, a liberal arts education is supposed to prepare students not for a job, but for skill sets," he said. "It teaches you to communicate effectively, think critically and work in a collaborative environment. All the academic courses from (first-year) seminars to your senior thesis require those skills. Professors require a high level of writing ability and I couldn't be happier with the experience I had."
The senior thesis Ghafari mentions is a senior individualized project (SIP), an in-depth, graduate-level research thesis, performance or creative work that all K students develop as the culmination to their learning. It's an occasion for independent scholarship, often in conjunction with an internship or other creative activity, that results in a written report, performance or exhibit.
For Ghafari, that report combined his economics major with his love of sports.
"My SIP studied the economic impact of hosting the Olympics," Ghafari said. "There's quite a bit of research on event management, a lot of it done through a university in Finland. These studies are done because countries are required to put in a ton of capital and cases are made as to whether the Olympics actually will have a positive impact. My conclusion was that not all cities would get that positive impact."
Today, Ghafari is preparing to become a member of the College's Board of Trustees. As a recent graduate, he will tell other board members for the next three years what students are experiencing through the K-Plan and explain their perspectives regarding the College.
"It's an unbelievable honor to provide the board with the perspective of a recent graduate," Ghafari said. "I applaud the College for having this role, and it's a great opportunity to advance the mission of the College. It's an exciting time with Jorge [Gonzalez, Kalamazoo College's president] and a new strategic plan. It's exciting to be able to help."