Some of the students who attend Kalamazoo College from 43 states and 28 countries first heard about K when they began their college searches. Asia Morales '15 was one of them.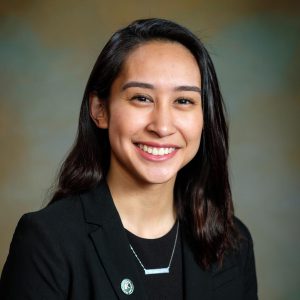 "I thought the name sounded funny," said Morales, a Los Angeles native now living in New York City where she works for The Posse Foundation, a college-access and youth leadership organization. Posse recruits and trains public high school students who might be overlooked by traditional college selection processes to become Posse Scholars in college, helping the students find better opportunities to succeed and graduate.
"I thought, 'Where is Kalamazoo and why would I go there?' " said Morales, who was a Posse Scholar herself. "But the Posse Foundation told us to research" K and other partner schools.
Upon further examination, Kalamazoo College turned out to be just the right fit even for a student who attended one of the largest charter high schools in the country.
"Kalamazoo College was small and people knew each other," Morales said. "I never knew I wanted that until I ran across it. It felt like an interdisciplinary school, where students collaborated and studied more than one major or topic."
That interdisciplinary feeling is a feature of the K-Plan, Kalamazoo College's integrated approach to an excellent education in the liberal arts and sciences. It promotes rigorous academics, experiential education, international and intercultural opportunities, and independent scholarship, offering a well-rounded education.
"There is no one K-Plan," Morales said. "Everyone did a (senior individualized project), most students studied abroad, but it was my comprehensive K-Plan experience that set me up for success. Once I got in the workplace, I knew how far ahead I was because of Kalamazoo College."
Morales majored in biology, minored in anthropology and sociology, served as a president's student ambassador, volunteered at Kaiser Permanente in Los Angeles, and spent a semester abroad in Cáceres, Spain.
"Those six months of my life were so important, because until then, I hadn't even been outside the U.S.," she said of her study-abroad experience. "It continually pushed me outside of my comfort zone. I didn't realize it at the time, but study abroad helped me develop skills I now use daily."
Morales also completed a Senior Individualized Project at Kalamazoo College through the Rocky Mountain Biological Lab in Colorado, studying how humans affected hummingbird pollination patterns as a result of roads being built near meadows.
"When scientists ask, 'What are the aspects of human activity that affect life on Earth?' we can think about what effects our roads have on our environment. It's an awareness of the world around you. We're probably not going to stop building roads. It becomes a question of how we do it responsibly."
Today, Morales is a member of the Kalamazoo College Board of Trustees, where she helps guide the College with budgets, strategic planning and investments to ensure it will continue to serve current and future students. To those future students, she says: "There are so many experiences to be had at K that don't happen at other colleges. This place fosters an experience unlike any other. It can be anything and everything you want it to be."