Major
East Asian Studies Department Website
---
---
Why Major in East Asian Studies at K?
Home to some of the world's most ancient and complex cultures, East Asia is a powerful influencer of global trade, finance, and popular culture, as well as a region of significant geopolitical interest.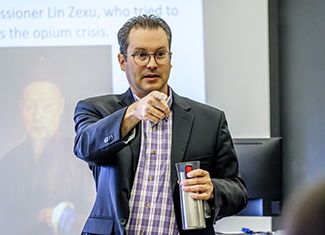 As an East Asian studies major, you will explore the culture, politics, and history of the region, with a special focus on China, Japan, and Korea. In addition to becoming proficient in either Chinese or Japanese, you will gain an extensive knowledge of the region, an appreciation for its cultures, and an understanding of modern global relations.  
You will complete courses in either Japanese or Chinese language as well as take East Asian culture classes taught in English, such as Urban China; China from the Borders; Occupiers and Occupied in Postwar East Asia; Japanese Sci-Fi; and Japanese Language and Society. The department also takes a deeply interdisciplinary approach to education, allowing students to fulfill some major requirements through select courses in the history, religion, theatre, and anthropology and sociology departments.
As an East Asian studies major, you will also have the opportunity to study abroad—for six to nine months—in East Asia, with programs in China, Japan, and South Korea.
While at K, you will be closely mentored by faculty in the department, who will help you plan out your studies to best match your personal and professional interests. This personal mentorship, along with the skills and cross-cultural expertise gained throughout the program, has prepared our graduates for successful careers in education, business, government, law, communications, and other fields.
Note: Students can only major in East Asian Studies; if they would prefer a minor, they can choose to study Chinese or Japanese—both of which are housed within the Department of East Asian Studies. However, due to the significant overlap in their programs, a student cannot major in East Asian Studies and minor in Chinese or Japanese.
What can you do with an East Asian Studies major?
Below are some of the careers, employers, and graduate schools of our East Asian studies alumni.
Careers
Teacher
Software Engineer
Policy Analyst
Grant Writer
Employers
Fulbright
Japan Exchange and Teaching Programme (JET)
United Nations
U.S. Department of Homeland Security
Graduate Schools
Capital Normal University, Beijing
John Hopkins University
George Washington University
University of Michigan
Program Spotlights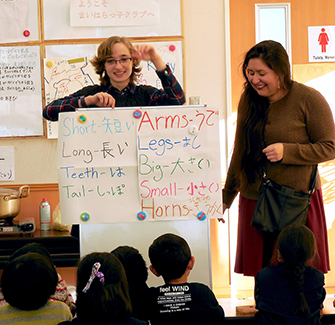 Immerse Yourself by Studying Abroad in Japan, China or South Korea
Experience first-hand the cultures you have been studying by taking advantage of the College's study abroad programs across Japan, China and South Korea, with options to live in Tokyo, Kyoto, Nagasaki, or Hikone, Japan; Hong Kong, Beijing, Shanghai, or Harbin, China; or Seoul, South Korea. During the one to three terms you are abroad, you will have the chance to attend a local university, travel across the region, and integrate yourself into the community for complete cultural and linguistic immersion.
Celebrate the Lunar New Year
As you complete your East Asian Studies major, you will develop close relationships with the students with whom you advance through your courses and the professors who go out of their way to offer personalized mentorship. This camaraderie is exemplified by the department's annual Lunar New Year celebration, where everyone comes together to usher in a year of happiness and prosperity through an evening filled with food, music and conversation.
Take a Deep Dive into Japanese Studies at the Nagai Kafu Lecture
Named after the esteemed Japanese author who briefly attended Kalamazoo College in the early nineteen hundreds, the Nagai Kafu Lecture is an annual celebration of Japanese studies with guest speakers coming to campus to share their scholarship. The lecture provides you the opportunity to learn about aspects of Japanese culture, history, and writing from the field's leading scholars. In 2022 Dr. Christina Laffin from the University of British Columbia spoke about Japanese women's poetry in the tenth and twelfth centuries.
Meet the Current Departmental Student Advisor
What is the best thing about being part of this department?
The advisors in this department support their advisees no matter the number of times one re-tweaks their four-year plan.
What is your advice to first-years and sophomores about getting connected to this department?
Even though it may seem that completing this major might give you limited options for your future plans, getting in touch with the head of department and reaching out to the CCPD [Center for Career and Professional Development] will help you realize that there are many opportunities out there.
What has been your favorite class at K? Why?
Taking the Manga/Anime & Gender Mod. Japanese course was not only enjoyable, but it also allowed me to learn about Japanese society's social and political issues over the decades through a creative format.
How have you taken advantage of the open curriculum or experienced breadth in your education?
Not knowing at the beginning of freshmen year what I wanted to study was overwhelming, but with the open curriculum I was able to explore what departments were not a fit and slowly found where my interests are.
What are your career aspirations/next steps after K?
After K I hope to be able to do a fellowship in South Korea to apply the skills obtained from my courses and fall internship.
East Asian Studies Department News