Minor
---
---
Why Study Japanese at K?
Studying Japanese at K is an enriching experience thanks to immersive study abroad opportunities, small class sizes and engaging courses.
Housed within the East Asian Studies Department, the Japanese program teaches you about Japan's rich history, culture and language. By the time you graduate, you will have been exposed to historical and modern Japanese literature and culture and understand the social and political influences that shaped them.
You will learn about Japan through language classes—from beginner to advanced—and cultural and linguistic courses taught in English, such as Post-War Japanese Literature in Translation, Japanese Language in Society, and Manga/Anime and Gender in Modern Japan.
For complete immersion into Japanese language and culture, you can take advantage of K's stellar study abroad programs with opportunities to live, for one to three terms, in Hikone, Nagasaki, Kyoto or Tokyo, Japan.
The robust education required for a minor in Japanese prepares students for careers in international relations, education and business. In fact, many of our alumni teach English in Japan or work for Japanese companies.
Note: Students can only Minor in Japanese; if they choose to continue their studies, they can major in East Asian Studies. However, due to the significant overlap in their programs, a student cannot major in East Asian Studies and minor in Japanese or Chinese.
What can you do with a Japanese minor?
Below are some of the careers, employers, and graduate schools of our Japanese alumni.
Careers
English Teacher
Digital Marketing Specialist
Software Engineer
Employers
Japan Exchange and Teaching (JET) Programme
United Nations
Winrock International
Graduate Schools
University of Michigan
American University
University of Chicago
Program Spotlights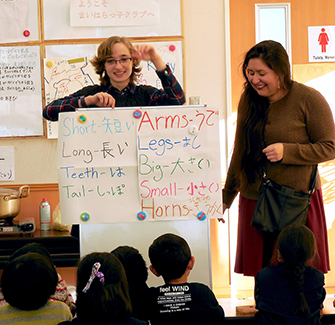 Personalized Japanese Study Abroad Programs
As a Japanese language student, you may choose from any of the College's 50+ study abroad programs, including five distinct options within Japan. Each program is tailored so that no matter your study abroad goals, there is an option suited for you: Dive deep into Japanese culture in Nagasaki, increase your fluency at Kyoto's intensive language program, participate in an Integrative Cultural Project and research alongside faculty in Hikone, or stay with a host family in Tokyo, Japan's capital.
Take a Deep Dive into Japanese Studies at the Nagai Kafu Lecture
Named after the esteemed Japanese author who briefly attended Kalamazoo College in the early nineteen hundreds, the Nagai Kafu Lecture is an annual celebration of Japanese studies with guest speakers coming to campus to share their scholarship. The lecture provides you the opportunity to learn about aspects of Japanese culture, history, and writing from the field's leading scholars. In 2022 Dr. Christina Laffin from the University of British Columbia spoke about Japanese women's poetry in the tenth and twelfth centuries.
Meet the Current Departmental Student Advisor
What is the best thing about being part of this department?
The kindness and inspiration of the teachers. The atmosphere that the Japanese department has is very motivating.
What is your advice to first-What has been your favorite class at K? Why?
My favorite class at K was "Japanese Culture Through Film," which I took as a sophomore. I loved the different perspectives on historical events, ideology, etc. and every discussion that we had was so unique and fun. I discovered some of my favorite movies from that class – it's super cool!
What experiential education opportunities have you participated in?
During my study abroad, I did three separate internships with the Iiyama Tourism Bureau in Nagano. It was a truly amazing experience to be able to work in a Japanese company.
What is your Senior Integrated Project (SIP)?
I am looking at case studies of authoritative actors and institutions of religion in both pre-World War II Japan and in the modern-day United States.
What are your career aspirations/next steps after K?
After graduating from K, I would like to work in Japan. As of right now, and in the upcoming year, I will continue working to raise my Japanese fluency to make this possible.
Japanese Department News