Kalamazoo College students and faculty enjoyed a return to in-person instruction in 2021, giving us a chance to spotlight the academic excellence, high-achieving students and accomplished faculty and staff that make our institution special. Here's a year-end roundup of what you read at our website the most, shaping K's top stories of the year. We're eager to see what accomplishments will come in 2022.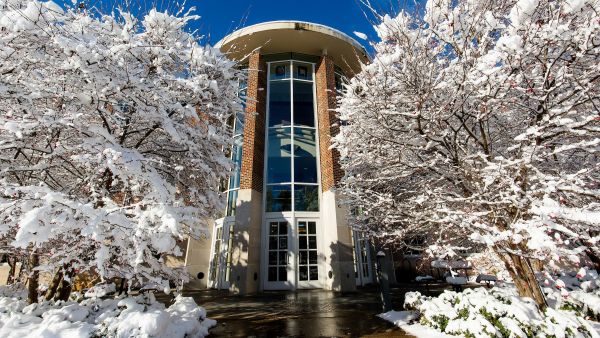 A generous $5 million commitment to Kalamazoo College from emeriti trustees Rosemary and John Brown will create an endowed scholarship fund to help provide access to talented students of all socioeconomic backgrounds. The Browns are active philanthropists, particularly as strong supporters of higher education.
Thirty-two students known for their invaluable contributions to the Kalamazoo College community were honored April 30 at the 17th annual Senior Leadership Recognition Awards.
Kalamazoo College provides one of the most outstanding returns on investment in higher education, according to the Princeton Review. The education-services company profiles and recommends K in the 2021 edition of The Best Value Colleges, its annual guide to undergraduate schools.
Seven Kalamazoo College representatives, including six from the Class of 2021, are receiving high honors from the federal government that will provide them with international learning opportunities.
The U.S. Department of State's Bureau of Educational and Cultural Affairs announced that Kalamazoo College is among the top producers of Fulbright recipients among colleges and universities for the 2020-21 academic year.
Kalamazoo College is ready to make a splash with student-athletes and the community thanks to the completion of its new $18 million natatorium.
AcademicInfluence.com is endorsing Kalamazoo College as one of the top four-year schools in the country where students can excel in the liberal arts.
Another analysis has placed Kalamazoo College as the top-ranked private higher education institution in Michigan.
Kalamazoo College was pleased to welcome 10 new faculty members to campus this fall.
J. Malcolm Smith joined Kalamazoo College as the institution's new vice president for student development and dean of students. Smith began his new role August 1 from Salve Regina University in Newport, Rhode Island, where he was its vice president for student affairs and dean of students.