Think of it as a mark of teaching excellence and a sign of educational quality in which all Kalamazoo College students and faculty can take pride.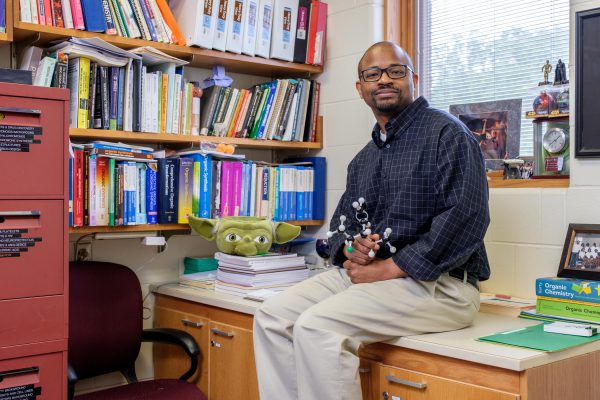 The Woodrow Wilson National Fellowship Foundation and Course Hero, an online learning platform for students, have extended a 2019 Fellowship for Excellence in Teaching grant to Dwight Williams, the Roger F. and Harriet G. Varney Assistant Professor of Chemistry at K.
Williams, an endowed chair at K, is one of four tenure-track professors and eight professors overall from around the country to receive the fellowship, which in his case will provide $30,000 to give students supplies, research opportunities and travel funds for professional conferences. The grant honors how Williams and K faculty like him who have found new ways to build student confidence and mastery of a subject, encourage critical thinking, and prepare students for lifelong learning.
Williams submitted a statement on his teaching philosophy and research inside and outside the Chemistry Department at K when applying for the grant. In the teaching statement, he addressed his adoption of mastery-based learning at K, which indicates a shift away from traditional exams and labs, and a move towards activities that provide students with various avenues for learning and understanding their course material. This new approach gives students multiple opportunities to learn from the things that went wrong, while also learning what works.
"We've turned the teaching labs from traditional, step-by-step experiments with predetermined outcomes into mini research projects with unknown outcomes," Williams said. "From this, students see that science doesn't always work how you expect it to. We hope this helps students retain information for the long term and transfer this knowledge across disciplines.
"I think learning from your mistakes is a critical part of the educational process and one that is sometimes overlooked. This approach allows us to better take advantage of this step in the learning process."
Williams added he hopes students and prospective students will see the honor as external validation of the learning that takes place at K and the strides faculty will take to engage students in their education.
"This should help students see what faculty do to engage them in learning no matter the subject, and we, the faculty, think really hard about learning, because we are also lifelong learners," Williams said. "We hope this will help prospective students see how much we care about helping students learn through evidence-based pedagogies."