Kalamazoo College Professor of English Andy Mozina just couldn't turn his attention away from a tragedy he first heard about seven years ago involving a drunken driving accident and the irreparable harm it caused a community through the loss of life.
"It was this nexus of awfulness," Mozina said. "I couldn't stop thinking about what that would be like for the relatives of the victims, and also for the perpetrator."
Although the inescapable images were dreadful, they also seeded the plot that grew into Mozina's latest work of fiction, Tandem, a novel due out this fall. It centers on Mike Kovacs, an economics professor from Kalamazoo living in the West Main Hill neighborhood, who kills two college-age tandem bicyclists in an inebriated hit-and-run at the parking lot of Saugatuck Dunes State Park.
The lead character goes to great lengths to cover up his crime while attempting to get over a bitter divorce and seeking a relationship with his estranged only child, a son at the University of Michigan.
"My mind thinks that he has given up the right to claim that he's a good person, and he's an economist, so he thinks in terms of debt and repayment," Mozina said of the character. "He knows he's in debt to humanity and that drives everything he does. He feels very guilty. Wherever he goes, whether he has any redeeming qualities, I want readers to think of him as a real person who did these things and is having these experiences. I want them to travel along with him and just imaginatively enter into the situation."
During his internal struggles, Mike befriends a neighbor, Claire Boland, who is the mother of one of his victims. With her marriage suffering, Claire is racked with guilt over what she might have done differently as a parent to prevent her daughter's death, while Mike deals with the shame he feels from committing his atrocity.
"I hope readers have a lot of sympathy for Claire," Mozina said. "I wanted her to have good qualities without being a blameless victim. I think of her as a sympathetic and earnest person whose flaws are tied to how she wants to live right and learn everything she can from TED Talks, the New York Times and NPR, and apply it to her life."
The driving force behind the book is that strange, troubled relationship between Mike and Claire, with the perpetrator hiding and thinking about surrendering. Mozina said he doesn't expect everyone to read or appreciate Tandem given its subject matter and the moments of humor within it. However, early feedback from fellow authors has provided positive reviews.
"A glimmering masterpiece about the slippery nature of truth and redemption, Tandem is at once riveting and contemplative, moving and hilarious, devastating and tender," said Erica Ferencik, the bestselling author of Girl in Ice, Into the Jungle and The River at Night. "It does what the best novels do: forever change how we see the world."
Tandem, published by Tortoise Books, will be available beginning with a free launch party at 6:30 p.m. October 24 at This is a Bookstore and Bookbug, 3019 Oakland Drive in Kalamazoo. Attendees are encouraged to RSVP through the store's Facebook event. Signed copies of Tandem may be reserved for $21. A second book-release event will be at 27th Letter Books in Detroit on October 25. Find more information at the store's website.
---
About the Author of 'Tandem'
Mozina studied economics at Northwestern University and attended Harvard Law School for a year before earning a master's degree in creative writing from Boston University. He then completed a doctorate in English literature at Washington University in St. Louis, moving to Kalamazoo to teach literature and creative writing at K after graduation. His classes at K include an introductory course in creative writing, a first-year seminar titled Co-Authoring Your Life, and intermediate and advanced courses in fiction.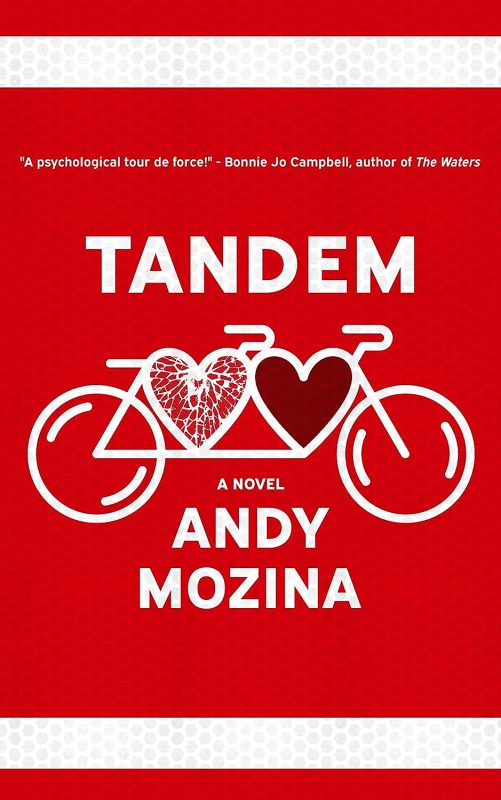 The author's first novel, Contrary Motion, about a concert harpist taking a symphony audition, was published in 2016. He is also the author of a book of literary criticism titled Joseph Conrad and the Art of Sacrifice along with two short-story collections, The Women Were Leaving the Men, which won the Great Lakes Colleges Association New Writers Award; and Quality Snacks, which was a finalist for The Flannery O'Connor Short Fiction Award. His fiction has appeared in numerous magazines, including Tin House, Ecotone, Fence, The Southern Review, and The Missouri Review, and has received special citations in Best American Short Stories, Pushcart Prize, and New Stories from the Midwest.
"I think fiction allows you to pick the struggles that show up diffusely throughout your life and be true to those problems," Mozina said. "You can also heighten them in a way that creates interest for the reader by inventing and shaping a lot. It brings out meaning to complicate things and shine a light on them. There's a certain soul work to reading and writing that I don't find elsewhere, so I do it through fiction."