Brad Bez '19 says he has wanted to be a coach since he was in his first year at Kalamazoo College.
"I think I've always had it in the back of my mind," he says. "But that was when I really started to pursue it and decide it was what I wanted to do."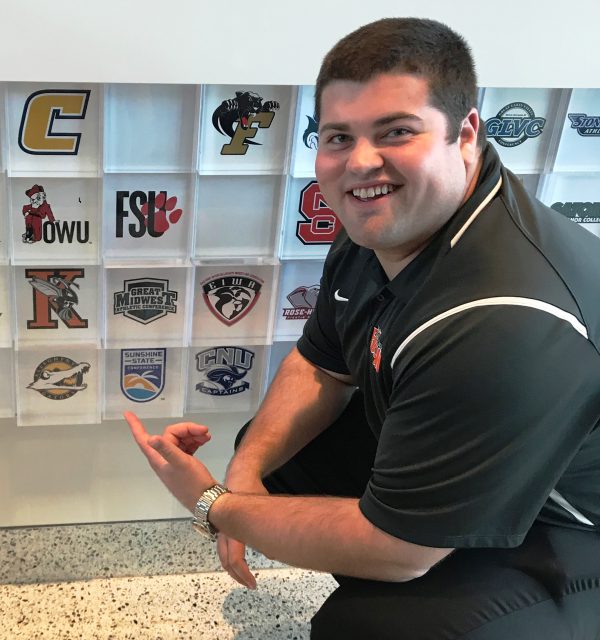 The Hornet football offensive lineman's ambition is well known to Head Coach Jamie Zorbo '00, who mentors his players both on and off the field. In keeping with the emphasis in the K-Plan on experiential education, Zorbo nominated Bez for the NCAA Career in Sports Forum at the NCAA's national office in Indianapolis in late May and early June 2018.
Bez was one of just 240 juniors and seniors chosen from more than 460,000 U.S. collegiate athletes to attend the all-expenses-paid forum, which the NCAA says is designed to assist them in charting their career paths as athletics professionals.
Over four days, he got to meet coaches, athletic directors and athletic staff from colleges and universities across the nation.
"It was all networking and workshops: how to make a better resume, different ways to connect with people, more information about the different careers in athletics, and particularly college athletics," he says. "There were so many things we learned how to do and learned more about."
The history major and political science minor says the biggest benefit may have been meeting fellow college athletes who will be among his future professional peers.
"Initially a lot of us went there with the idea that we were going to try to meet people in a position we want to be in. So a lot of us were trying to network with the people who have jobs," he says. "And by the end, we all realized it was way more important to network with our peers, to try to get to know them. For example, I want to coach, and I met a guy who wants to be an athletic director. So we got to talking, and I was like, 'Down the road, maybe one day, we'll cross paths and you'll get to hire me.' "
Bez, who is spending the summer as an intern in the Michigan State University athletic director's office, says the biggest takeaway from the conference was "you have to build genuine relationships with people. If they just know your name, that's not really enough. You have to know who people are and they have to know you in order for that to be a productive relationship. For both of you it has to be genuine."
That's the sort of relationship he—and, he says, his teammates—have with Zorbo.
"I've been pretty lucky that I've gotten to be around Coach a lot during my time at K," he says. "Whether it's calling me into his office to have an extended conversation or just encountering something and him saying, 'Hey, if you want to be a coach, this is what you need to know,' I've had a pretty in-depth relationship with him."
He says Zorbo's off-field efforts for his players also include making sure they get to know K football alumni who can help them in their athletic and academic pursuits.
"Through Coach, I've been able to build my own network and have these people who share a commonality with me," Bez says.
With Zorbo's example, he talks about coaching not in terms of wins and losses, but as a way of making a difference in other people's lives—and his own.
"I think the best thing about coaching is the relationships you get to build and the effect you get to have on people," he says. "I mean, when I look back on my life, aside from my parents and family, the biggest impact on me has been my coaches. Those people shaped me to be who I am. I think that would be a spot really suited to me to have an impact on other people, but also for them to have an impact on me."