Some students enter college knowing exactly what they want to do. Many don't or change their minds at some point early in their academic careers. Kalamazoo College, with a liberal arts curriculum embodied in the K-Plan that is designed for exploration and discovery, gives students a year and a half to sample various academic fields before choosing a major, and makes it possible for them to do so without sacrificing their ability to graduate in four years. This week's Declaration of Major Day, the midpoint of their sophomore year, is a festive gathering where they formally designate their majors, minors and concentrations.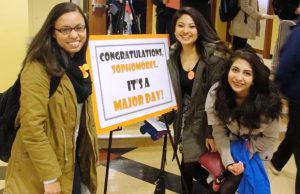 The banquet hall at Hicks Student Center is packed as each department sets up a booth. Students go from table to table, committing to their fields of study and getting answers to last-minute questions. Wearing stickers declaring they made their choices, they are treated to pieces of "Declaration Cake," courtesy of Dining Services, and share the big moment with one another and the rest of campus.
"It's a real rite of passage for students because it's a big decision and they're finding their academic home," said Associate Dean of Students Dana Jansma. "Instead of just processing paperwork, we make it a communitywide celebration."
Jansma also said it's also a way for the College to show that it believes every student at K is important, whether they have a record of distinguished scholarship or are newly committed to their academic path.
"We want sophomores to know we're excited about their plans and their accomplishments," she said.
K senior Shelby Hopper, an international and area studies and German major with a minor in political science, still recalls the excitement of her Declaration of Major Day.
"It was an opportunity for everyone in my class to come together and show each other what we were all passionate about," Hopper said.
And it can be cathartic. Sometimes the act of making a decision can spur a rethinking that leads to a different path. If it does, no worries: Thanks to the flexibility of the K-Plan, the College will work with students to make a switch of major or majors as seamless as possible.