Kalamazoo College welcomes the students visiting this weekend for the Michigan Music Teachers Association Performance Competition for solo and chamber instrumentalists. Performances will be at Recital Hall, Dalton Theater and the band room at the Light Fine Arts Building.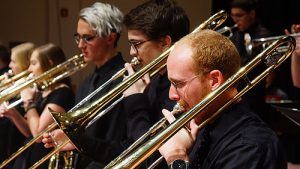 For those visiting students still in high school, take a look around campus and explore what it offers through our virtual tour. If you can see yourself attending K, check out the music scholarships and theater scholarships we have for music majors and non-majors alike.
If we've piqued your interest, learn how to connect with Admission. The Admission Office often is the first point of contact for prospective students and their families as it shares the College's distinctive programs and opportunities in the liberal arts and sciences, which are developed through the K-Plan. The K-Plan is a nationally recognized open curriculum offering rigorous academics, a hands-on education of experiential learning, international and intercultural experiences such as study abroad programs, and independent scholarship through senior individualized projects.
Enjoy your stay!