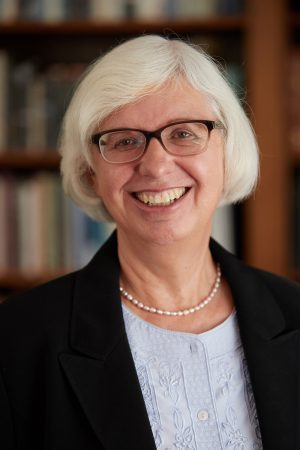 Kalamazoo College has named a new vice president to lead the business and finance areas for the liberal arts institution. Karen Sisson, former vice president and treasurer of Pomona College in Claremont, Calif. will begin her new role on March 1, 2020.
"Karen's extensive experience in higher education, finance and operations are a great fit for K," said Kalamazoo College President Jorge G. Gonzalez. "Her open style of communication, calm demeanor and commitment to the liberal arts impressed the campus community."
As Pomona's chief financial officer, Sisson was responsible for financial management and capital planning, including financial reporting, budget administration, investments, real estate, and nonacademic business supervision for human resources. She was also responsible for the physical plant, including housekeeping, grounds, maintenance and food service. In addition, Karen oversaw Pomona's significant efforts toward a more sustainable campus.
"I am thrilled to join K and to become part of such an academically distinctive and caring community! I look forward to working with and supporting students, faculty and staff in my new role," said Sisson.
Prior to working in higher education, Sisson spent 17 years in California local government finance and administration, including nine years as chief financial officer and deputy executive director of Los Angeles World Airports, the department responsible for LAX, Van Nuys, and Palmdale airports. While serving as deputy mayor for finance and performance management in Los Angeles, she was appointed the city administrative officer, the first woman to hold that position. Sisson also has experience in commercial banking, mortgage banking and financial consulting.
An alumna of Pomona College, Karen earned her M.B.A. from the University of Chicago and her M.A. in theology from Fuller Theological Seminary.
Kalamazoo College's former vice president for business and finance left K to become the vice president for finance and business at The College of Wooster in Wooster, Ohio.
Sisson was selected after a nationwide search conducted by an on-campus committee with the assistance of Storbeck/Pimentel & Associates, an executive search firm specializing in the education and non-profit sectors. Comprised of faculty, staff and trustees, the committee was co-chaired by Associate Provost Laura Lowe Furge and Vice President for Advancement Al De Simone.
"The committee worked diligently and recruited a robust pool of candidates, and I am delighted with the outcome." said Gonzalez.
Kalamazoo College, founded in 1833, is a nationally recognized residential liberal arts and sciences college located in Kalamazoo, Michigan. The creator of the K-Plan, Kalamazoo College provides an individualized education that integrates rigorous academics with life-changing experiential learning opportunities.