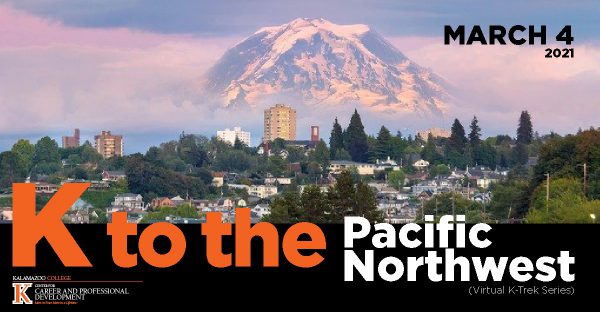 A group of Kalamazoo College alumni is calling upon itself to help students overcome pandemic-prompted challenges so they can build their networks and launch their careers.
"One of the beautiful aspects of K is that we have such a rich cadre of alums who want to engage with students related to their career preparation," Center for Career and Professional Development Director Tricia Zelaya-Leon said. "It's a good challenge to have when there's so much excitement and enthusiasm from alumni that they come to me and ask how they can help."
For this particular group of alumni, the answer is coming through K-Treks, the career-immersion experiences that typically allow students to visit alumni and explore interesting professions around the country. With K-Treks temporarily being virtual, cost is not a factor in determining how many students can attend. It also allows more alumni representing a greater variety of majors and business fields to connect with students, revealing more pathways to finding their passions and their jobs.
The additional alumni are allowing the CCPD to expand Thursday's virtual K-Treks, originally planned as K to Starbucks, to K to the Pacific Northwest (K2PNW). Six alumni, representing a variety of K majors and diverse professions, will represent not only Starbucks, but also Microsoft, HealthSparq, Payscale, Hulu and Intellectual Ventures, while networking with students on March 4 from 5:30 to 7 p.m.
"I don't want students to think that their major doesn't matter. However, it is just one piece of the puzzle." Zelaya-Leon said. "A major is really about helping students find a passion they're interested in and not just a measure that will lead them to career success. The beauty of the alumni that we have attending this virtual K-Trek series is that many of them had more than one major or the work they do now is very different from what you might expect someone with that major to do."
The alumni panelists and their majors and careers include:
All students are welcome to participate by registering at any time before the event through Handshake. Students who attend will receive the contact information for the alumni participants.
"I keep thinking about the senior year for the classes of 2020 and 2021, and how unexpected their experiences have been for them," Zelaya-Leon said. "This isn't the way they thought it was going to go, and I feel for them. These K-Treks are open to all students, but they're especially for the seniors. I hope they'll continue to come see us for help after these events are over."