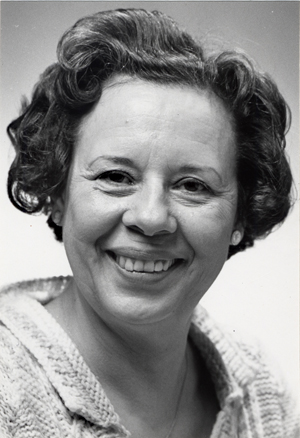 Betty Rita Gómez Lance, professor emeritus of Romance languages and literatures, died on September 18, 2016. She was 93. Her career at Kalamazoo College spanned 27 years (1961-1988). Before coming to K she taught at Washington University in St. Louis and at the University of Illinois.
Betty was born in San Jose, Costa Rica. Her father had migrated to that country from Spain. In Costa Rica he worked as a shoemaker to support his wife and their four daughters. Betty's mother was the staunch advocate of education for her four daughters. Betty came to the United States in 1942 to study science and earned her bachelor's degree (physical sciences) at Central Missouri State University and her master's degree (agricultural chemistry) at the University of Missouri. But literature was her great passion, and she earned her Ph.D. in Romance languages and literatures at Washington University in St. Louis. Betty was fluent in Spanish and English and proficient in French, Italian, Portuguese, and German. She loved her native country and believed that Costa Rica's commitment to democracy and freedom to dissent had much to teach the world.
In addition to her teaching duties at K, Betty directed Puerta de Oportunidad, a project to teach English as a foreign language to Spanish speaking people in the Kalamazoo area. She was a prolific scholar, whose works include a book on Spanish novelist Juan Antonio de Zunzunegui. She also authored books on Peruvian writer Enrique Lopez Albujar and El Salvador poet Claudia Lars, and she published a work of literary criticism on the picaresque tradition in the 20th-century literature of Spain.
Betty was a short story writer and poet. Her volumes of poetry include Vivencias (Lifeways), Vendimia del Tiempo (Harvest of Time), Alas en el Alba (Wings in the Dawn), Bebiendo Luna (Sipping Moon), and Siete Cuerdas (Seven Chords). Her short story collection was titled Hoy Hacen Corro Las Ardillas (Today the Squirrels are Holding a Pow-Wow). She also published poems and stories in many Spanish-English literary journals. She had a style of concrete imagery often drawn from nature and a writing regimen reminiscent of the late U.S. Poet Laureate William Stafford, making poems every day, or, in Betty's case, every night. "I work on images [and] it is night when I write poetry," she said. "Sometimes they come and come and come. I'll do three to five poems." In 1993 Betty was inducted into the Academia Iberoamericana de Poesía de Madrid (Iberoamerican Academy of Poetry), whose honorees also include Nobel Laureates Vicente Alexandre and Pablo Neruda. Betty had previously been inducted into the Asociación Prometeo de Poesía (The Prometheus Association of Poetry) in Madrid, Spain.
Betty was active in many organizations, including Friends of the Library, the Kalamazoo Institute Arts, the Kalamazoo Nature Center, and the Environmental Concerns Committee in Kalamazoo. She was a member of Poets and Writers America, American Association of Teachers of Spanish and Portuguese, the Asociación De Escritores Costarricenses, the aforementioned Asociación Prometeo De Poesía and Asociación Iberoamericana De Poesía, and many others.
In addition to writing, Betty loved to hike and knit. After her retirement she established an award in Latin American Studies that had been awarded anonymously until her passing.  The fund now bears her name The Betty R. Gomez Lance Award in Latin American Studies. She is survived by two sons, Edward (a graduate of K) and Harold, and the many students (surrogate "sons" and "daughters" in a way) whom she inspired to become teachers of Spanish and Latin American and Spanish literatures. A campus memorial service is being planned for December. More information on the service will be forthcoming.
"I write to give vent to my joys, my sorrows, my feelings, my thoughts," she once wrote. "I write for personal solace; and when I receive praise for my writings that connection to another soul, the vivencias of another human being, surprises me. It is very comforting to know that they too have these feelings and that we're all part of the universal human soul."