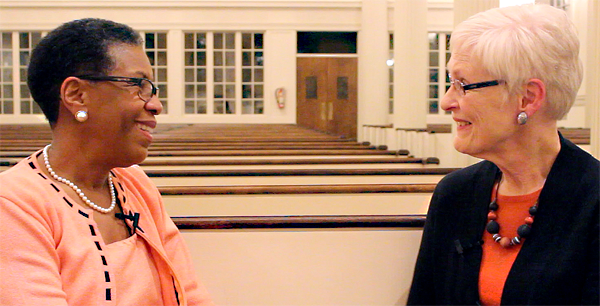 President Eileen B. Wilson-Oyelaran today announced her retirement from Kalamazoo College, effective June 30, 2016. She made the announcement at the College's spring term all-campus gathering, a meeting of faculty and staff.
President Wilson-Oyelaran was unanimously elected the 17th president of Kalamazoo College by the board of trustees on December 11, 2004. She began her duties in July of 2005. Prior to the presidency of K she served as vice president and dean of the college of Salem Academy and College in Winston-Salem, North Carolina.
A native of Los Angeles, President Wilson-Oyelaran earned her undergraduate degree (sociology) from Pomona College, a liberal arts school in Claremont, California. She studied abroad in England as an undergraduate, and used a postgraduate fellowship to study in Africa (Ghana, Nigeria, and Tanzania) for 16 months.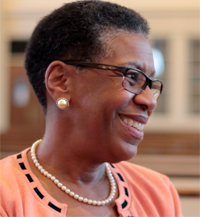 She returned to the U.S. to earn a master's degree and Ph.D. in child development and early childhood education (Claremont Graduate University) and then taught in the departments of education and psychology at the University of Ife in Nigeria for 14 years. She married Olasope (Sope) Oyelaran in 1980, and they have four children—Doyin, Oyinda, Salewa, and Yinka.
The family moved to the United States in 1988. President Wilson-Oyelaran taught or served in administrative leadership positions at North Carolina Wesleyan College and Winston-Salem State University prior to joining the faculty of Salem College.
At K she led the development of a 10-year strategic plan for the college that, among other priorities, focused on the re-imagination and integration of the elements of K's internationally renowned curriculum, the K-Plan. "We're helping students integrate and reflect on the building blocks they use to construct their own unique K-Plans," said President Wilson-Oyelaran: classroom explorations in the liberal arts, study abroad, career internships and networking opportunities, civic engagement, social justice leadership, and the capstone experience that is the senior individualized project. "Those elements, alone and in concert, enhance the four years that students spend at Kalamazoo College and will enhance students' lives for years to come," added President Wilson-Oyelaran.
Other curricular improvements during her tenure include revised graduation requirements, implementation of the Shared Passages Seminar Series (which helps students reflect upon and integrate their academic and experiential opportunities), three new academic majors (business, women and gender studies, and critical ethnic studies), two new intercollegiate sports (men's and women's lacrosse), the Arcus Center for Social Justice Leadership, and new career and professional development programs such as the Guilds of Kalamazoo College.
President Wilson-Oyelaran helped envision and implement another key focus of the College's strategic plan: building a campus community whose diversity reflects the world where K students will live and work. She acknowledged that much work remains to be done in order to create a learning environment that is equitable and inclusive for each member of K's diverse learning community–the most diverse in its history. In this the 10th year of her tenure, 26 percent of K students identify as U.S. students of color. International students (degree-seeking and visiting) are nearly 10 percent of the student body. Fifteen percent of K students are the first in their families to attend college; and one in four comes from a family of modest income.
President Wilson-Oyelaran has reinvigorated campus spaces that students and employees use to solidify the sense of community that characterizes Kalamazoo College. Not since Presidents Hoben and Hicks has the physical campus made such extraordinary gains in beauty and utility. New spaces that have been renovated or erected during President Wilson-Oyelaran's tenure include the Hicks Center, the athletic fields and field house, and the extraordinary work of architecture that houses the social justice center. In addition to these spaces, construction of a new fitness and wellness center will begin at the end of summer, and preliminary design of a new natatorium is complete.
Also, per the strategic plan, enrollment has grown to nearly 1,500 students (the 2017 goal specified by the plan), and the College has implemented an ambitious alumni engagement plan. President Wilson-Oyelaran also has led the most successful fund-raising campaign in the College's history. That effort, called the Campaign for Kalamazoo College, is in its final stages, having raised $123 million of its $125 million goal.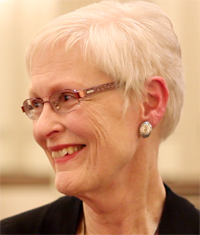 Chair of the Board of Trustees Charlotte Hall '66 said that the search for a new president would begin immediately. She noted that the search committee would include trustees, alumni, students, faculty, and staff. The 18th president of Kalamazoo College is expected to assume those duties on July 1, 2016.
That new president will have big shoes to fill. "Eileen, we are so grateful for all the ways you've helped prepare K for its future," said Hall. "I know I speak for the entire K community, the Kalamazoo Community, and all the people you have touched throughout your time in higher education when I say we hope the best for you and Sope."
President Wilson-Oyelaran cited the "singular honor" of serving at Kalamazoo College and shared her belief that, K, "the very best is yet to come."
Her legacy here is truly a blessing for our entire community. More than a decade ago, when she was considering the decision to move from Salem Academy and College to Kalamazoo College, Eileen Wilson-Oyelaran was seeking some sort of sign to tip the scale. She found it when she learned that the great abolitionist and women's rights activist Sojourner Truth had once met with kindred spirit Lucinda Hinsdale Stone (head of the female department at K, which was one of the first colleges in the country to provide higher education for women). "Ever since I was a child," President Wilson-Oyelaran said in 2004, "Sojourner Truth has been an icon for me."
Now, in turn, Kalamazoo College President Eileen B. Wilson-Oyelaran can be an icon for us.