Junior A.J. Convertino – a Canton, Mich., native and a son of Val and Rick Convertino – has received a $20,000 David L. Boren Scholarship to study Chinese for six months in Beijing during Kalamazoo College's winter/spring quarters.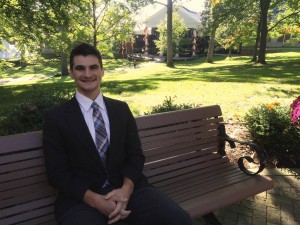 Boren Scholarships are funded by the federal government through the National Security Education Program, which focuses on geographic areas, languages and fields of study deemed critical to United States national security. About 170 students nationwide earned the scholarship last year.
The prestigious scholarship is named for former U.S. Sen. David L. Boren, the principal author of the legislation that created the National Security Education Program. Boren Scholars (undergrads) and Fellows (graduate students) will live in 40 countries throughout Africa, Asia, Central and Eastern Europe, Eurasia, Latin America and the Middle East, and study 37 languages.
A.J., an East Asian studies major and a political science and Chinese minor, said he chose K for its academic and athletic opportunities as well as the study abroad program. He is a wide receiver on the K College football team and a member of the a capella group Kalamadudes, which he feels gave him an advantage in the rigorous Boren application process that required two essays and three letters of recommendation.
A.J. said he started taking Chinese when he attended Plymouth High School.
"At first I think taking Chinese was about me wanting to be different from everybody else," he said. "We had more than 20 Spanish teachers and only one Chinese teacher. But it's rare for a native English speaker to be fluent in Chinese."
The scholarship will be a life-changing opportunity for A.J. When it's done he will fulfill a two-year service obligation with the federal government in a department with national security responsibilities. A.J. hopes his service eventually leads to work as a Foreign Service officer in the U.S. Department of State.
Most football players at K need to miss their junior season if they decide to study abroad in a program like A.J.'s given when most of the programs are available. However, A.J. worked with Center for International Programs Acting Director Margaret Wiedenhoeft to find a six-month opportunity with enough credits that begins Dec. 28. He will depart Dec. 26 for Beijing's Capital Normal University.
A.J. credits Wiedenhoeft, football coach Jamie Zorbo, Associate Professor of Political Science John Dugas, Professor of Chinese Language and Literature Madeline Chu, and Assistant Professor of Chinese Yue Hong for a combination of hard work, letters of recommendation, essay assistance, teaching styles and dedication for his upcoming opportunity.
The first part of A.J.'s experience will involve a language pledge, meaning he must speak Mandarin inside and outside the classroom. After the January term, he will have a two-week break for Chinese New Year before spring semester when he will have an intensive language course with a Chinese politics or history course in English. On top of that, he will work in an internship for eight hours a week, but he won't know what his internship will involve until he gets to China.
"I'm really excited (for the internship) because I made it clear on my questionnaire that I'm interested in government and politics. Learning the vocabulary of that setting would really help me in my career," A.J. said.
A.J. will return to the U.S. on June 24. Luke Winship (China/Mandarin), Erin Eagan (Senegal/Wolof) and Amanda Johnson (China/Mandarin) are previous Boren Scholars from K.