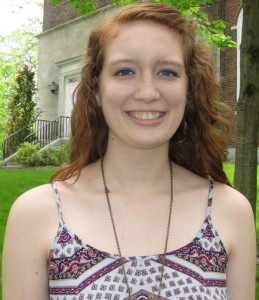 Kalamazoo College sophomore Amanda Johnson '17 has received a David L. Boren Scholarship to study in China during the 2015-2016 academic year. The $20,000 award will allow her to study Chinese in Beijing and Harbin.
Boren Scholarships are funded by the National Security Education Program, a federal government program that focuses on geographic areas, languages, and fields of study deemed critical to United States national security.
Amanda is one of only 171 undergraduate students (all U.S. passport holders) to receive the 2015-16 Boren award.
"Through the Boren Scholarship, I will focus on improving my Mandarin, immersing myself in Chinese culture, and taking part in both an internship and one-on-one study with a Chinese professor on a topic of my choosing," said Amanda, a sophomore from Hudsonville, Mich.
In addition to pursuing majors in economics and political science and a minor in Chinese while at K, Amanda is secretary of finance for K's Student Commission, a consultant for the student Writing Center, and a teaching assistant for the Economics Department. She also is active on campus with the movement for an intercultural center.
Upon receiving the Boren Scholarship, Amanda was enthusiastic about such a wonderful opportunity and the networks it would provide. She says it's the result of "an amazing support system" that has helped her at K.
"By the time I submitted my final Boren application I had more than 18 rough drafts that had been edited by professors, staff members, and fellow students. This highlights what students at Kalamazoo College can do with a community that supports their endeavors."
In exchange for funding, Boren award recipients agree to work in the federal government for a period of at least one year following their formal education. Amanda says she may consider fulfilling her Boren Scholarship requirement with the Department of Homeland Security as an asylum officer, helping adjudicate asylum cases by using her Chinese (and Spanish) language skills. Ultimately, she hopes to pursue a career with the United States Department of State and she is excited about the opportunity the Boren Scholarship will give her to jumpstart her career.
During the winter break of her sophomore year, Amanda interned with the Human Rights Initiative of Northern Texas, a nonprofit organization that provides immigration services to individuals who have experienced human rights violations in their home country. This internship opportunity, funded by the Arcus Center for Social Justice Leadership, allowed Amanda to work with asylum applicants and utilize her Spanish and Chinese language skills throughout the application process.
The Boren awards are named for former U.S. Senator David L. Boren, the principal author of the legislation that created the National Security Education Program. Boren Scholars (undergrads) and Fellows (graduate students) will live in 40 countries throughout Africa, Asia, Central and Eastern Europe, Eurasia, Latin America, and the Middle East. They will study 37 different languages that are considered critical to U.S. interests, including Arabic, Hindi, Mandarin, Russian, Swahili, and Wolof.
Current Kalamazoo College seniors Luke Winship (China/Mandarin) and Erin Eagan (Senegal/Wolof) are previous Boren Scholars.