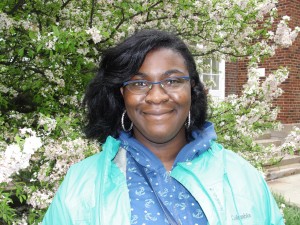 Kalamazoo College first-year student Maya Sykes '18 has been awarded a U.S. Department of State Critical Language Scholarship (CLS) to study Chinese in Beijing, China during summer 2015. Maya, a west-side Chicago native, is one of approximately 550 U.S. undergraduate and graduate students chose to study critical needs languages this summer. CLS participants will spend seven to ten weeks in intensive language institutes this summer in one of 13 countries to study Arabic, Azerbaijani, Bangla, Chinese, Hindi, Korean, Indonesian, Japanese, Persian, Punjabi, Russian, Turkish, or Urdu.
"I am happy and nervous about earning the CLS scholarship," said Maya, a self-described introvert and "K-pop" fan. "I'm a little nervous about going, but I'm happy I don't have to look for a job this summer."
Maya said she has been "interested in Asian culture since middle school. My cousins speak Mandarin Chinese and influenced me to do so. My current plan is to major in East Asian Studies at K and perhaps minor in Chinese and English."
Outside of the classroom, Maya is active in the Student Activities Committee, a student-led organization that provides a variety of fun and healthy outlets to K students while committee offering members opportunities for campus leadership and involvement. She also tutors kindergarteners and second-graders at Woodward Elementary School through the College's Mary Jane Underwood Stryker Center for Civic Engagement.
The CLS Program is part of a U.S. government effort to expand dramatically the number of Americans studying and mastering critical foreign languages. It provides fully-funded, group-based intensive language instruction and structured cultural enrichment experiences. CLS Program participants are expected to continue their language study beyond the scholarship and apply their critical language skills in their future professional careers.
Selected finalists for the 2015 CLS Program hail from 49 states, Puerto Rico and the District of Columbia and represent more than 200 institutions of higher education from across the United States, including public and private universities, liberal arts colleges, minority-serving institutions and community colleges.