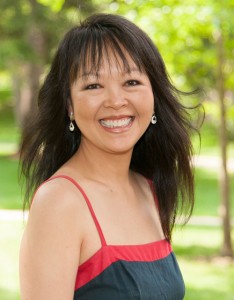 The world premier of a documentary that prominently features Kalamazoo College Professor of Psychology Siu-Lan Tan occurred at the Hamptons International Film Festival. For SCORE: A Film Music Documentary Siu-Lan was one of some 60 live interviews compiled for the film, including conversations with the top living film composers in United States and the United Kingdom (Hans Zimmer, Danny Elfman, Randy Newman,  Howard Shaw, Trent Reznor, Alexandre Desplat, among others), film directors like James Cameron, producers like Quincy Jones, and several film scholars.
Last Saturday's world premier will be quickly followed by this Thursday's showing of Score as the Closing Night Film at the Tacoma Film Festival in Washington. That is quite an honor! Each year TFF receives more than 1,000 submissions, whittled down to 100 films. Of those, one is chosen the Opening Night Film, the other for Closing Night Film. Both draw the largest audiences.
Siu-Lan appears five times in the film, and she has its final soundbite, finishing a sentence begum by director James Cameron. Kalamazoo College is mentioned every time Siu-Lan appears, and K is thanked in the end credits along with the filming location of Dalton Theater. Siu-Lan not only has the last word in the film; she has the last word in the film's first review (by Sheri Linden of The Hollywood Reporter).
If you get a chance, see Score; it's likely to be the best film you've ever heard, or at least reveal why your favorite movie has as much to do with your ears as your eyes.