A new multi-purpose structure for people who use Kalamazoo College's 140-acre Lillian Anderson Arboretum will be dedicated at 4 p.m. Tuesday, Oct. 25, at the arboretum.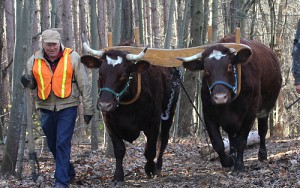 The Dr. H. Lewis Batts, Jr. and Jean M. Batts Pavilion is named for two Kalamazoo College alumni who had a significant impact on natural education in Kalamazoo and beyond.
A generous grant from the Irving S. Gilmore Foundation enabled the construction of the off-grid Batts Pavilion and other infrastructure improvements including an accessible trail and an improved driveway and parking lot.
Kalamazoo College Biology Professor Binney Girdler serves as the arboretum's faculty director and was active in its design. Girdler said she expects this to be a transitional year where she and others explore uses of the Batts Pavilion to enhance users' experience of the arboretum.
"A main goal is to enhance our ability to fulfill the mission of the arboretum: to provide access to nature for members of the college community as well as the larger community," Girdler said. "Part of the pavilion is open air so it will always be available to visitors. The other part is enclosed with one room being large enough for a class and two rooms for storage."
The Batts Pavilion is due south of the Anderson Arboretum parking lot, far enough from M-43 that road noise is minimal. It is also situated where a clearing had been so few trees had to be cut down. The structure's main support beams are made of red pine, which were harvested from the arboretum and moved to the pavilion's construction site by oxen so heavy machinery would not be needed.
"The pavilion provides a tiny bit of civilization in the middle of the woods, and it's a space to gather in inclement weather," Girdler said. "We envision use by biology and chemistry field labs, as well as humanities and arts classes. Through these courses and in their extracurricular activities, our students can build partnerships with community groups to help connect more people to nature; the new parking area will allow a K-12 school bus to drop off kids for an exploration of the woods or wetlands."