Rocketry and a liberal arts education might seem like a strange combination, but not for Kalamazoo College's Emma Kristal. Emma recently won individual and team gold medals with the USA World Space Modeling team in the Space Modeling Championships in Lviv, Ukraine.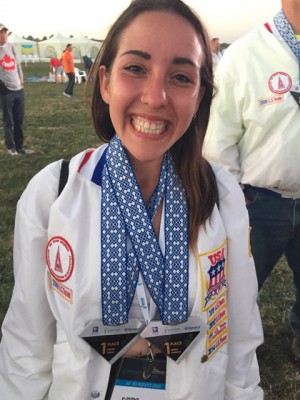 Emma – a junior from Royal Oak, Mich. – majors in psychology and biology with a concentration in neuroscience. She also minors in French at K. Yet rocketry has been a passion since fifth grade.
"I didn't want to go compete at first, but my dad had the time off and it was finally in Michigan," Emma said of her first National Association of Rocketry competition. "He conned me into going by telling me it would be just for fun."
Emma set one of her 10 U.S. National Model Rocketry records in the E SuperRoc event during that competition. That led to more competitions and the Smithsonian Air and Space Museum accepting one of her rockets.
The Smithsonian "liked it because a fifth-grade girl used it to set a record and because I made it to look like a giant pink pencil," Emma said. Although the rocket is not on display, she hopes it one day might be.
Emma since has tried several events to find which she likes best. Her event this year on the world stage was the S2P Precision Fragile Payload. In this event, competitors tried to reach an altitude of 300 meters and a flight time of 60 seconds for three consecutive flights while not breaking an egg in the rocket. Emma was the flyer who came closest to the cumulative target without breaking or cracking her egg.
"The fun part is we can't check between rounds whether the egg is cracked," Emma said. "It wasn't until an hour after the final round had ended that I found out I was in first place."
The world championships are every other year. Emma has competed with the U.S. team since 2010. The competition has allowed Emma to travel to Serbia, Slovakia and Bulgaria in addition to Ukraine for competitions. Emma also has visited Vienna, Austria, and a rocket manufacturer in the formerly closed city of Dnipro, Ukraine.
"Most of the competitions are in Eastern Europe because that's where most of the competitors are from other than the U.K. and China," she said, noting she has made friends from all over the world.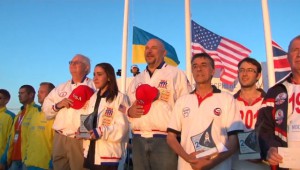 "We're the fiercest competitors on the field, but afterward, we can still sit down and play cards together," she said. "I'm making connections with people from all over the world. Sometimes I can scroll through my newsfeed (on Facebook) and not see a single thing in English."
Despite her interest in science-related topics and hobbies, Emma quite naturally chose K.
"My dad is an emergency room doctor and when we asked his colleagues where I should attend college, they all said K. Honestly, we thought (Kalamazoo College) put something in the water to make them all rave about it," she said with a smile.
Emma has no plans to make a career out of rocketry, but one thing is certain: She will always shoot for the stars.
Emma Kristal's U.S. National Model Rocketry Records
8/2/07A, Division E, SuperRoc, Altitude, 138,223 points, E6-8 motor
6/1/08A, Division B, Streamer, Duration, 259 seconds (eclipsed 3/20/10)
7/23/13B, Division A, Altitude, 187½ meters, A3-4T motor
1/3/13B, Division B, Altimeter Altitude, 264 meters, B6-6 motor (eclipsed 7/28/15)
1/3/13B, Division C, Altimeter Altitude, 486 meters, C6-7 motor
1/3/13B, Division D, Altimeter Altitude, 759 meters, D10-7 motor
1/3/13B, Division E, Altimeter Altitude, 1359 meters, E6-8 motor
2/3/13B, Division B, Cluster Altimeter, Altitude, 60 meters, 5 x B6-6 motors
7/25/13B, Division A, Payload Altitude, 131 meters, A3-4T motor
7/24/13B, Division C, Dual Eggloft Altimeter, 128 meters, C11-3