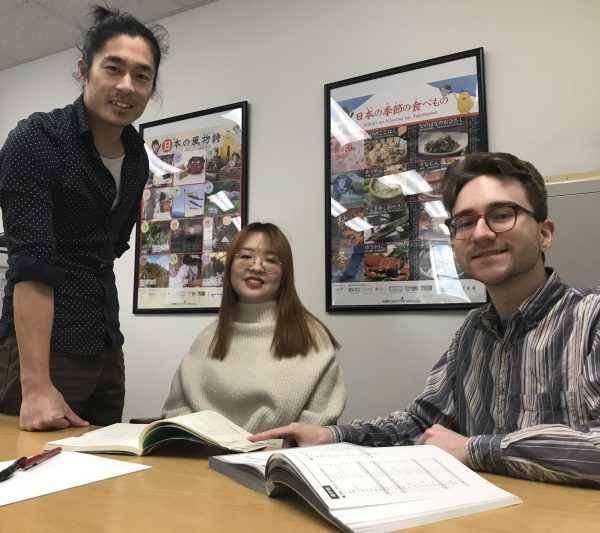 For the second year in a row, two Kalamazoo College students placed among the top three finishers in a prestigious Japanese Speech Contest organized by Detroit's Consulate General of Japan.
Xiu Cai '20 and Shane Spink '20 finished second and third respectively out of dozens who represented the University of Michigan, Western Michigan University, Eastern Michigan University and Lansing Community College at the 24th Michigan Japanese Language Speech Contest. Cai and Spink are third-year Japanese students of Visiting Instructor Masanori Shiomi.
Contest participants drafted their own speeches in Japanese to present in front of three judges and an audience Feb. 9 at Michigan State University. Cai's speech, "My Life with Accidents and Coincidences," shared her unlikely foray into studying Japanese and how she came to love it. Spink's speech, "How to Use Soft Power," detailed Japan's use of pop culture in diplomatic relations, contrasting it with the use of hard power in the United States.
Cai's second-place finish tied Amanda Esler '19 for the highest-ever finish for a K student in the contest.
The event "offered me a chance to meet new people and make friends with more Japanese students," Cai said. "These intellectuals helped me learn more about the diverse perspectives of the world. However, I want to say thank you to my amazing Japanese teacher for being one of the most helpful and thoughtful teachers."
Spink's third-place finish was the best in the contest's history for a K student who didn't study abroad in Japan. Spink, a Kalamazoo native, said he believes he could have done better, but added "many of the other contestants have had far more experience with learning and practicing Japanese." He plans to work in Japan after he graduates.
"Though it was nerve-wracking to perform a memorized speech in front of a large audience with far greater knowledge of the Japanese language than myself, it was a rewarding experience," Spink said. "Events like these are important milestones and I will never forget this speech contest."