Pull your honey close and get ready for some facts about the super food and honey bees courtesy of Kalamazoo College Biology Professor Ann Fraser and her entomology class.
September is National Honey Month, which prompted us to ask Fraser's students some questions about honey. As luck would have it, the students have been preparing to take an annual field trip to the Kalamazoo Nature Center, where they see an active hive of honey bees, courtesy of the Kalamazoo Bee Club. The students learn how honey is made, handle the casts where the honey is harvested from a hive, and occasionally see the queen among the thousands of bees.
"They become fascinated," Fraser said of the experience. "Some of them are a little scared of bees at first, maybe because they had a bad experience at one point. But over time, as we're there for the hour, they get closer to the hive. Eventually, they're actually holding the frames from the hive. It's surprising how heavy they can be with bare hands because each frame weighs about eight pounds."
The number of honey bees around the world is dropping because of pesticide use, habitat loss, a drop in their food supply, and Colony Collapse Disorder, a phenomenon that occurs when a combination of these factors and varroa mites, a honey bee pest, combine to kill the worker bees. That potentially could threaten the amount of honey available in the world's food supply, and cause problems related to pollination and agriculture.
"Every year we see at least 30 percent of hives die off over the winter," Fraser said. "It's kind of a new normal in the beekeeping industry."
The good news is citizens can help protect honey bees and support the creation of honey by planting a variety of native wildflowers.
"Honey bees aren't native to North America," Fraser said. "They were brought over in the 1600s from Europe, not for pollination, but to make honey and beeswax products. They've been here ever since. By planting wildflowers, we're providing food resources for bees and other pollinators, so that we can help beekeepers keep them healthy."
Fraser's students were busy bees in helping us find more answers to our questions about honey and honey bees. Here's what they had to say.
How long have humans been harvesting honey from honey bee hives?
The earliest records of humans consuming bee honey and wax are about 10,000 years old as shown in prehistoric drawings in caves. Drawings found in Spain, about 7,000 years old, depict the practice of beekeeping. According to Queen Bee Farms, there is also a 15,000-year-old painting of a woman climbing a rope ladder to collect honey on the side of a cliff. – Joergen and Jack
Why is honey important for the bees themselves and their colonies?
Honey is a great fuel source for bees. Large amounts of it are made and stored to be consumed during the cold months. Bees use stored honey and pollen to feed their larvae. It's an energy-rich food source that gives the bees the energy they need to vibrate and take flight. – Molly and Camilia
Why is honey vital to the world's food supply?
If not for honey, honey bees would starve in the winter months. This would be a major issue for world food security, as 71 of the 100 crop varieties that account for 90% of the world's food are pollinated by bees, according to the Center for Food Safety. From the human perspective, the sweet taste of honey has made it a sought-after treat and sweetener for millennia. It can also be used to make a fermented drink, mead, which is making a comeback in the brewing industry these days. – Noah and Evan
What types of bees are there in a honey bee hive?
Worker bees can account for up to 60,000 individuals in a colony. They're reproductively-underdeveloped female honey bees, performing all the work for the colony. Young workers stay inside to perform nest cleaning and nurse duties. They move on to become receivers and storers of incoming nectar and pollen. Near the end of their six-week life they leave the hive as foragers to collect nectar and pollen. The queen is a fully-fertile female that specializes in egg production. Typically, there is only one queen per colony and it produces pheromones that regulate the colony's behavior. Drones are male bees that account for up to 500 individuals in a colony during the spring and summer. The drones fly from the hive and mate midair with the queens from other colonies. – Lia and Penny
Do other types of bees (i.e. non-honey bees) make honey?
Honey is a general term that refers to the nectar processed by insects. Humans generally consume only honey from honey bees because they form very large colonies that store it in abundance. – Zach and Rina
What variables affect the color and flavor of different varieties of honey?
Honey varies in taste depending on the flowers the honey bees visit to collect nectar. Clover honey is light yellow and has a mild and sweet taste. Eucalyptus honey, common in Australia, has a slight menthol aftertaste. Buckwheat honey tastes like molasses and is very dark in color. Dandelion honey has a sweet floral taste and is bright golden yellow. Manuka honey, from New Zealand, is a gold color and is used as a topical ointment for MRSA, stings, infections and burns. Sourwood honey has a buttery or caramel taste. Goldenrod is dark with a sweet, licorice-like aftertaste. Wildflower honey comes from many different flowers and can taste different each time. In general, the darker the honey, the bolder the flavor. – Maci and Gabby
What threats assail honey bees and the world's supply of honey?
Common threats to honey bees include diseases such as American and European foulbrood, chalkbrood and nosema; some varieties of beetles and mites; wax moths, which can damage a hive's structure; global warming and droughts; forest fires; and Colony Collapse Disorder, which could be caused by pests, pesticides, habitat changes, stressors, prolonged transportation, malnutrition or a combination of these factors. – Claudia and Kyle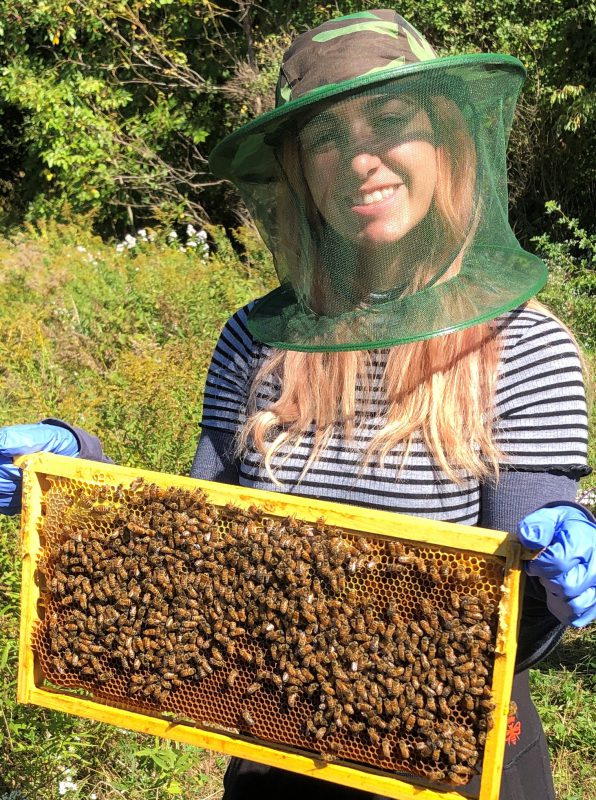 What is significant about the honey bees we find in Michigan?
There are about 450 different types of bees in Michigan, most of them native to this the region. The honey bee is just one type of bee and it was actually imported from Western Europe. Bees are important pollinators of plants worldwide. Honey bees are especially important in agricultural settings because they can be kept in managed hives and have such large colonies. Michigan hosts about 90,000 hives, ranking the state eighth in the U.S. for its number of hives. Honey bees are especially important for fruit crops such as cherries, apples and blueberries, and vegetable or seed production for crops such as peppers, carrots and onions. In 2015, 50% of Michigan's $2 billion crop industry was attributed to honey bees. – Lydia and Rachel
What can we in Michigan do to ensure we're supporting the sustainability of bees and honey?
Make your yard or garden a bee-friendly environment. Plant bee-friendly flowering plants such as bee balm, milkweed, asters and sunflowers; and herbs such as mint, oregano, garlic, chives, parsley and lavender. It's also important to limit pesticides in your garden or yard, especially during blooming periods. – Mikayla and Bella
What is 'raw' honey? Do we need to be concerned about the purity or cleanliness of honey we buy?
Raw honey is unprocessed and unpasteurized honey. It might include pollen, wax and a resinous substance called propolis that bees use to seal or repair the hive. While it may contain more vitamins and nutrients than unpasteurized honey, it also might trigger or aggravate allergies in people sensitive to pollen. Some claim raw honey is more nutritious, but consuming it may increase the risk of illness that can cause dizziness, nausea, vomiting and a drop in blood pressure. – Mariah and Zaydee