Joseph Stulberg '67 says he sometimes marvels at how two or three years spent in a particular place can set the course for a lifetime.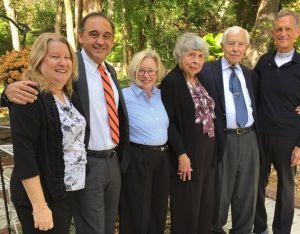 For Stulberg, more commonly known as Josh, that place was Kalamazoo College, where people like David Scarrow, then a philosophy professor, and Scarrow's wife Janet served as role models who inspired his own distinguished academic career.
Marking the 50th anniversary of his graduation and his class reunion during the 2017 Homecoming weekend, Stulberg – the Michael E. Moritz Chair in Alternative Dispute Resolution at Ohio State University's Moritz College of Law – and his wife Midge are creating the Janet and David S. Scarrow Endowment for Philosophy. He says the fund is aimed at ensuring today's Kalamazoo College philosophy majors have the sort of experience that helped shape his life.
The Stulbergs previously created scholarships for students majoring in philosophy and in English or theatre. Philosophy Department Chair Christopher Latiolais says their latest gift goes a step further, both supporting students and making possible what he hopes will be a fundamental element of the department's program: the funding of teaching assistantships for philosophy majors.
The Scarrow Endowment will also support travel by philosophy majors to academic conferences where they can gain experience presenting their research. And Latiolais says the department hopes to launch an annual newsletter to help keep alumni connected to current students.
He says the Stulbergs' gift is not only the largest the department has received during his tenure, but also is the product of years of discussions with the couple, who asked "hard, good, strong questions about what we were doing."
"I thought it was a remarkably thoughtful gift," Latiolais says.
College President Jorge G. Gonzalez says it is especially gratifying to see one professor honor another – and in the process, foster yet another generation of scholars.
"It reinforces that we are part of a profession that values its past yet is always looking ahead," he said. "Nowhere is that more apparent than at a place like Kalamazoo College, where the liberal arts tradition endures."
Stulberg says he and his wife are "thrilled" to be able to "provide some tangible resources" to support the mission of liberal arts education at Kalamazoo College – "the place I know best."
As for Scarrow, now 91, he is self-effacing when asked about the reverence Stulberg holds for him, but pleased, honored and confident that the endowment "will enhance the lives of students who are serious about studying philosophy."
For more information about the Janet and David S. Scarrow Endowment for Philosophy, contact Al DeSimone, Kalamazoo College Vice President for Advancement, at 269.337.7292 or Al.DeSimone@kzoo.edu.
– Text by Editorial Director Bill Steiden