Kalamazoo College Family Weekend served as the backdrop for the College's annual Honors Day convocation. More than 250 students were recognized Friday, Oct. 27, for excellence in academics and leadership in six divisions: Fine Arts, Foreign Languages, Humanities, Natural Sciences and Mathematics, Social Sciences and Physical Education. Recipients of prestigious scholarships were recognized, as were members of national honor societies and students who received special Kalamazoo College awards. Student athletes and teams who won Michigan Intercollegiate Athletic Association awards also were honored. The students receiving Honors Day awards or recognition are listed below.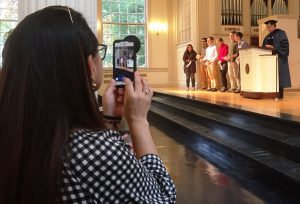 FINE ARTS DIVISION
The Brian Gougeon Prize in Art
Hannah Rainaldi
The Margaret Upton Prize in Music
Joshua Gibson
Jenna Sherman
Cooper Award
Kate Kreiss
Sherwood Prize
Cody Colvin
Theatre Arts First-Year Student Award
Sophia Hill
Alysia Homminga
FOREIGN LANGUAGES DIVISION
LeGrand Copley Prize in French
Valentina Cordero
Ravi Nair
Hardy Fuchs Award
Matthew Flotemersch
Margo Light Award
Annarosa Whitman
Romance Languages Department Prize in Spanish
Joshua Gibson
Kevin McCarty
Clara H. Buckley Prize for Excellence in Latin
Mara Hazen
Provost's Prize in Classics
Clayton Meldrum
HUMANITIES DIVISION
O.M. Allen Prize in English
Paige Coffing
John B. Wickstrom Prize in History
Riya Bhuyan
Department of Philosophy Prize
Lee Carter
Emiline Chipman
L.J. and Eva ("Gibbie") Hemmes Memorial Prize in Philosophy
Rosella LoChirco
NATURAL SCIENCES AND MATHEMATICS DIVISION
Winifred Peake Jones Prize in Biology
Brigette Berke
Amelia Davis
Dominic Gonzalez
Department of Chemistry Prize
Kevin McCarty
First-Year Chemistry Award
Kristen Amyx-Sherer
Alyssa Heitkamp
Lemuel F. Smith Award
Maria Fujii
Computer Science Prize
Fabien Debies
Zoe Larson
Danielle Sarafian
First-Year Mathematics Award
Michael Orwin
William Tait
Thomas O. Walton Prize in Mathematics
Allegra Allgeier
Cooper Prize in Physics
Benjamin Behrens
Valentina Harding
Alexis Periman
Justin Seablom
Ethan Tucker
SOCIAL SCIENCES DIVISION
Departmental Prize in Anthropology and Sociology
Paige Chung
Shadaijah Grandberry-Payton
Aliyah Jamaluddin
Elizabeth Munoz
Emiliana Renuart
C. Wallace Lawrence Prize in Economics
Andrew Parsons
Evelyn Wagner
C. Wallace Lawrence Prize in Business
Jessica Penny
Scott Roberts
Garrett Swanson
Irene and S. Kyle Morris Prize
Zachary Ray
William G. Howard Memorial Prize
Sarah Gerendasy
Department of Psychology First-Year Student Prize
Shannon Carley
PHYSICAL EDUCATION DIVISION
Division of Physical Education Prize
Laura Hanselman
Daniel Henry
Maggie Wardle Prize
Elizabeth Munoz
COLLEGE AWARDS
Gordon Beaumont Memorial Award
Cydney Martell
Rumsha Sajid
Cindy Xiao
Henry and Inez Brown Prize
Alexandrea Ambs
Emily Good
David Vanderkloot
Virginia Hinkelman Memorial Award
Sarafina Milianti
Sep'tisha Riley
Heyl Scholars – Class of 2020
Andrew Backer
Matthew Giguere
Josephine Hosner
Danielle Janowicz
Samuel Meyer
Hannah Pittman
Stephanie Rauhoff
Subi Thakali
Dustin Tibbetts
Posse Scholars – Class of 2020
Alejandro Aguirre
Alexandro Cruz
Kahira Embry
Moses Gonzalez
Denise Jackson
Trevor Loduem-Jackson
Daniel Mota-Villegas
Angela Pastor
Enrique Robles
Gabrielle Walton Schwartz
National Merit Scholar – Class of 2020
Ehren White
Voynovich Scholars
Elise Houcek
Susmitha Narisetty
Alpha Lambda Delta – Class of 2019
Alpha Lambda Delta is a national honor society that recognizes excellence in academic achievement during the first college year. To be eligible for membership, students must earn a cumulative GPA of at least 3.5 and be in the top 20 percent of their class during the first year.
Logan Beck
Benjamin Behrens
Brigette Berke
Riya Bhuyan
Shannon Carley
Iffat Chowdhury
Valentina Cordero
Austin Cramer
Adelaine Dancer
Matthew Flotemersch
Amanda Gardner
Joshua Gibson
Dominic Gonzalez
Martin Hansknecht
Sophia Hill
Kento Hirakawa
Alysia Homminga
Maria Katrantzi
Zoe Larson
Samuel Maddox
Kathryn Martin
Kevin McCarty
Tamara Morrison
Elizabeth Munoz
Cayla Patterson
Alexis Periman
Victorialyn Regan
Danna Robles-Garcia
Orly Rubinfeld
Danielle Sarafian
Jenna Sherman
Simran Singh
Grant Stille
Sarah Whitfield
ENLIGHTENED LEADERSHIP AWARDS
Performing Arts: Music
Madeleine Armstrong
Zachary Colburn
Adam Decker
Jennalise Ellis
Stanton Greenstone
Audrey Honig
Isabel McLaughlin
Katherine Miller-Purrenhage
Natalie Minzey
Julia Riddle
Margaret Roethler
MICHIGAN INTERCOLLEGIATE ATHLETIC ASSOCIATION (MIAA) AWARDS
The following Hornet teams earned the 2015-2016 MIAA Team GPA Award. Team members achieved a 3.3 or better grade point average for the entire academic year.
Men's Baseball
Men's Cross Country
Men's Golf
Men's Soccer
Men's Swim & Dive
Men's Tennis
Women's Basketball
Women's Golf
Women's Lacrosse
Women's Soccer
Women's Softball
Women's Swim & Dive
Women's Tennis
Women's Volleyball
MIAA ACADEMIC HONOR ROLL
The MIAA each year honors students at member colleges who achieve distinction in the classroom and in athletic competition. Students need to be a letter winners in a varsity sport and maintain at minimum 3.5 grade point average for the entire school year.
Cheyenne Allyn-White
Alexandrea Ambs
Georgie Andrews
Ryan Andrusz
Hunter Angileri
Alberto Ayala
Sonal Bahl
Chase Baysdell
Matthew Benedettini
Jacob Bonifacio
Kennedy Boulton
Riley Boyd
Andrew Bremer
Allie Brodsky
Molly Brueger
Ian Bunker
Matthew Burczyk
Alexander Cadigan
Charles Carson
Madeleine Chilcote
Jack Clark
Elizabeth Clevenger
Anthony Convertino
Austin Cramer
Anna Dairaghi
Christina Dandar
Elan Dantus
Roger Darling
Sabrina Dass
Steven Davis
Eric De Witt
Dana DeVito
Mikayla Doepker
Guillermo Dominguez-Garcia
Nathan Donovan
Erin DuRoss
Tristyn Edsall
Emma Eisenbeis
Michael Faust
Anders Finholt
John Fowler
Christopher Francis
Maria Franco
Brett Garwood
Cory Gensterblum
Joseph Giacalone
Jacob Gilhaus
Anthony Giovanni
Rachel Girard
Beau Godkin
Emily Good
Monica Gorgas
Mya Gough
Andre Grayson
Garrett Guthrie
Alyssa Heitkamp
Daniel Henry
Kaiya Herman-Hilker
Kyle Hernandez
Mathew Holmes-Hackerd
Allia Howard
Nicole Huff
Briana Huisken
Claire Jensen
Katherine Johnson
Marylou Johnson
Claire Kalina
Maria Katrantzi
Greg Kearns
Samuel Kepes
Benjamin Kileen
Dahwi Kim
William Kirchen
Ian Kobernick
Emily Kozal
Matthew Krinock
Stefan Leclerc
Rosella LoChirco
Nicholas Ludka
Cydney Martell
Eliza McCall
Katherine McKibbon
Branden Metzler
Joshua Miller
Suzanne Miller
Madison Moote
Zachary Morales
Elizabeth Munoz
Dylan Padget
James Paprocki
Cayla Patterson
John Patton
Bradley Popiel
Nicole Prentice
Zachary Prystash
Erin Radermacher
Zachary Ray
Phillip Ritchie
Scott Roberts
Justin Roop
Matthew Ryder
Paige Sambor
Aaron Schwark
Jacob Scott
Justin Seablom
Anorah Seita
Sharif Shaker
Chase Shelbourne
Alec Sherrill
Gabrielle Shimko
Grace Smith
Adam Snider
Kathleen Sorensen
Sydney Spring
Vethania Stavropoulos
Grant Stille
Shelby Suseland
Matthew Suter
Jacob Sypniewski
Jack Tagget
William Tait
Emma Tardiff
Benjamin Toledo
Alyana Tomlinson
Zachary Tornow
Matt Turton
Eva Ugelow
Madison Vallan
Kaela Van Til
Joshua Vance
David Vanderkloot
Zachary VanFaussien
Mitchell VanKoevering
Travis Veenhuis
John Vinson
Sidney Wall
Jacob Wasko
John Wehr
Alex White
Madeline Woods
Brent Yelton
Julie Zabik
Matthew Zhiss