Tom Massura, an instrument technician in both the physics department and chemistry and biochemistry department at Kalamazoo College, is this year's recipient of the Lux Esto Award of Excellence. The award, announced Friday to celebrate Founders Day, marking the College's 189th year, recognizes an employee who has served the institution for at least 26 years and has a record of stewardship and innovation.
The recipient—chosen by a committee with student, faculty and staff representatives—is an employee who exemplifies the spirit of K through excellent leadership, selfless dedication and goodwill. Massura started at the College in 1987. Today, he maintains more than 50 machines used exclusively in the College's Science Division while managing general science instrumentation and setting up physics labs.
Massura's "kindness, patience, quick wit and positive attitude brighten the days of everyone he interacts with," Kalamazoo College President Jorge G. Gonzalez said in presenting the award. "Nominators noted how helpful, dedicated and easy to work with he is with a sense of humor that helps days move along even when they're challenging. His considerable technical expertise has helped generations of science students."
In accordance with Founders Day traditions, two other employees received individual awards. Assistant Professor of Music Chris Ludwa was given the Outstanding Advisor Award and Associate Professor of Chemistry Jennifer Furchak received the First-Year Advocate Award.
Ludwa is the director of K's College Singers, the Lux Esto Chamber Choir and the Kalamazoo Bach Festival. Before arriving at K, he served as the director of music at the Federated Church Cleveland, where he led four ensembles, presented an annual concert series and maintained a voice studio for exceptional singers enrolled in performing arts academies and high schools.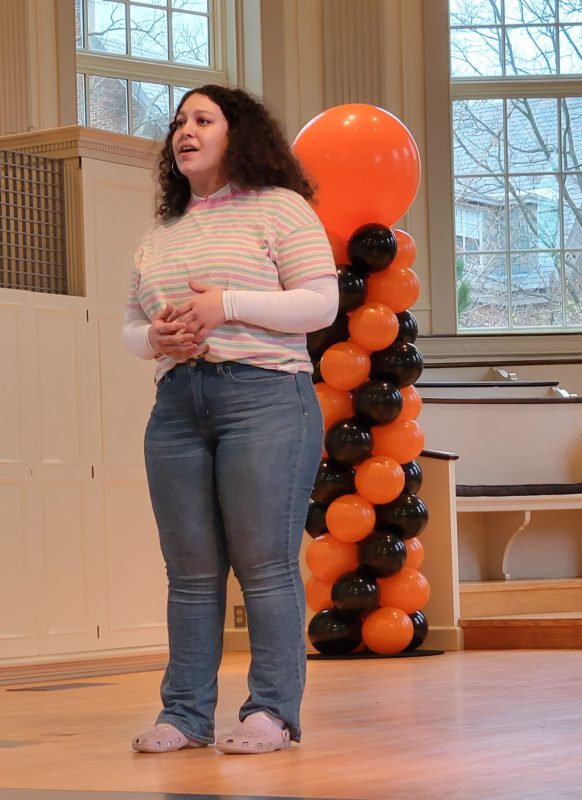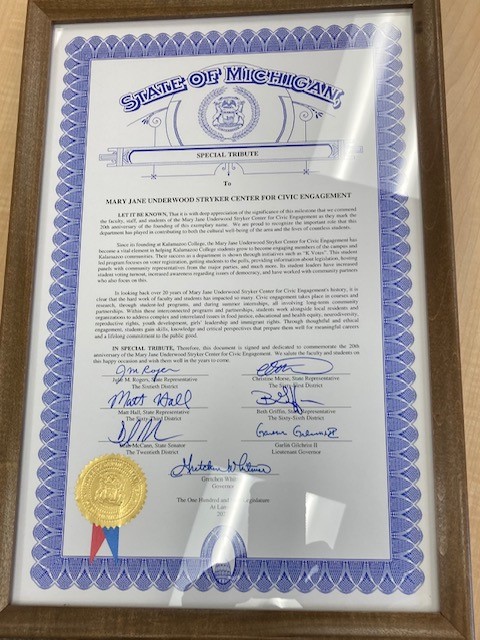 Nominators for the award said Ludwa is always a thoughtful and kind source of advice and encouragement, and Gonzalez added Ludwa is being honored for his "caring commitment and dedication to the growth and well-being of our students."
Furchak teaches courses in chemical composition and structure, analytical chemistry and instrumental analysis. Her research interests are in analytical separations and spectroscopy.
Furchak has, through her first-year seminar, "not only illustrated how scientific work needed to evolve into a more equitable and inclusive form, but how our own work will contribute to this institutional shift and real, tangible benefits," Gonzalez said. "Her instruction illustrates the importance of being one's authentic self while pursuing one's aspirations, scientific or not."
Student soloists Julia Ghazal and Sophia Merchant also performed and, in a special appearance, State Rep. Julie Rogers attended Founders Day to present an honorary certificate to the Mary Jane Underwood Stryker Center for Civic Engagement to recognize its 20th anniversary. The certificate was signed by all the state representatives and state senators from Kalamazoo County, Gov. Gretchen Whitmer and Lt. Gov. Garlin Gilchrist.
"In looking back over 20 years of the Mary Jane Underwood Stryker Center for Civic Engagement's history, it's clear that the hard work of the faculty and students has impacted many," the certificate says. "Through thoughtful and ethical engagement, students gain skills, knowledge and critical perspectives that prepare them for meaningful careers and a lifelong commitment to the public good."