When you need inspiration for celebrating Earth Day, a Kalamazoo College student will often provide it. Take Sam Meyer '21, a physics major. His Senior Integrated Project (SIP) applied gravity and physics theories not only to designing, but building—through in-person, international volunteerism—a sustainable irrigation system in Pawaga, Tanzania, that conserves the region's scarce water resources.
Both on location and off, Meyer surveyed Tanzania's Consolata Missionaries site, researched and studied fluid mechanics, aided the system's design and installation, and secured project funding through K's Collins Fellowship—which helps fund student projects abroad—and through donors from GoFundMe.
The project was still ongoing as Meyer returned home from Tanzania last summer after spending about seven weeks there. In that time, he said, Pawaga didn't receive even a drop of rain. However, the system he created now sustainably irrigates about 3 acres of soil and has yielded a successful season of crops. In fact, his work might hold solutions for areas around the world that have trouble with implementing their own agriculture. Meyer's system fills elevated reservoir tanks during the day through solar power, thereby powering an electric water pump, and uses gravity to irrigate the fields in the evening when the sun is low and the land is cooler, mitigating evaporation.
"Not only has the system limited the labor involved in the agriculture, it's maximized itself to a point that the mission can grow crops regularly and have excess crops to share with a nearby elementary and primary school," Meyer said. "Those students come to the compound every day, so the system promotes their education and combats malnourishment, which I think is just amazing."
Tanzania is one of several African countries that lies along the East African Rift Valley (EARV), which features an arid and rocky ecosystem, causing frequent droughts, despite water's general availability through lakes and rivers. Tanzania is one of the most developed countries in East Africa, but outside of its capital and urban centers, the villages and vast wilderness leave some populations isolated outside of schools and religious groups that offer some support. Scarcity causes national authorities to impose taxes to control water with some irrigation practices limited to restrictive or wasteful practices such as flooding fields or bucketing water by hand.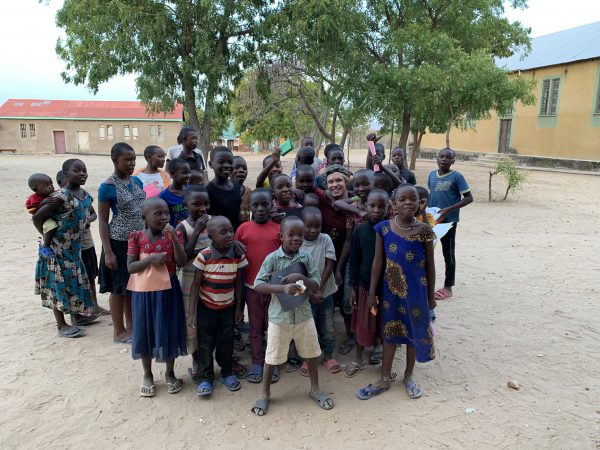 Challenges from climate change to wildlife necessitate improving the nation's sustainable approaches to agriculture. Volunteer organizations such as the World Wide Opportunities on Organic Farms (WWOOF) nurture agricultural practices to tackle these challenges in Tanzania. The organization's worldwide movement links visitors, also known as WWOOFers, with organic farmers, promoting a cultural and educational exchange, and building a global community conscious of ecological farming and sustainability practices.
WWOOF has one chapter assisting Father Evarist Thadei Mngulu, whose Tanzania mission had failed in previous attempts to integrate an irrigation system and couldn't afford an engineer's estimate of $16,000 to install one. That lead Father Evarist to seek help from WWOOF, and WWOOF to finding Meyer while he was searching for SIP ideas.
Between the Collins Fellowship and GoFundMe, Meyer raised about $3,200, which funded his entire project. Even with a language barrier and Father Evarist being the only fluent English speaker among the Tanzanians who generally speak Swahili, the project was successful.
"Father Evarist wants to use the system as a way of educating other farmers in the area in irrigation practices because their practices now are to flood a field, which can produce a lot of runoff and waste, or bucketing water there," Meyer said. "Through the system, he helps to strengthen the community through this new technology, which is a new aspect of the mission. That makes me very happy."
As Meyer reflects on the irrigation system's implementation, he has an offer on the table from an engineering firm in Austin, Texas. Mears Group Inc.—an infrastructure-solutions provider that offers engineering, construction and maintenance services to the oil and natural gas, electric transmission and distribution, telecommunications and wastewater industries—took notice of Meyer's SIP, the work he performed in Tanzania and his interest in environmental engineering. Now, Meyer will begin life after K in a role that promises more opportunities to improve communities, while he continues to eye the progress he began in Tanzania.
"I promoted this project during my application process, and I believe it was a big part of me gaining the position," Meyer said. "I mentioned the sustainability aspect of it and my potential interest in being an environmental engineer, and they were excited to hear about it. I think it was a huge piece in me getting that position."
Beyond the practical and professional experience gained through the project, Meyer appreciates the relationships formed along the way. "The people of Tanzania are so welcoming and friendly that I had a great time. I still have some connections with friends I made there, including Father Evarist, and I'm still working on aiding him with anything else that comes up."
Donations Accepted
Sam Meyer '21 is continuing to collect donations through GoFundMe that will go toward supporting agricultural efforts including growing crops and teaching other communities about building their own sustainable irrigation systems. Visit his fundraiser to donate.