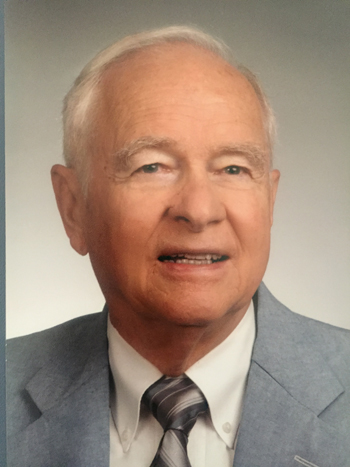 Former Kalamazoo College professor of economics and business Sherrill Cleland died of natural causes at the age of 91 on October 26, 2015, in Sarasota, Florida. He was an outstanding teacher and educator, a leader and innovator in higher education, and an accomplished economist.
Professor Cleland was born in 1924 in Galion, Ohio, to Fred and Doris Cleland. He was a decorated World War II veteran with a Bronze Star and Purple Heart. He earned his degrees in economics from Oberlin College (BA) and Princeton College (MA and Ph.D).
He joined the faculty at Kalamazoo College in 1956 as an assistant professor of economics and business and chair of that department. Within three years he had achieved the rank of full professor and served in that role until 1973. He also served as dean of academic affairs (1965-1967) and vice president (1966-67). Among other subjects, he was an expert in Middle East studies and on the integration of courses on consumerism into college curricula.
Professor Cleland was known for his optimism, encouragement, curious mind, and his interest in others and in the world. He was widely admired for his creativity, his commitment to mentoring others, and for promoting equal rights and opportunities for women.
He left Kalamazoo College in 1973 to serve as President of Marietta College (Marietta, Ohio), a position he held until 1989.
Professor Cleland's acumen as an economist was recognized near and far. In 1962 former Governor John Swainson named Cleland to a five-person advisory committee on the Michigan economy. Internationally, through the Ford Foundation, Professor Cleland worked as an economic advisor to Jordan, and he helped create the country's first infrastructure development plan in Amman (1963-64). Later he led the creation of the world's first masters program in Development Economics at the American University of Beirut in Lebanon (1967-69). In 1965 the Great Lakes Colleges Association and the U.s. State Department appointed Professor Cleland to a team of educators who visited various colleges and universities in six African nations to study possibilities of faculty and student exchanges.
His civic engagement while a resident of Kalamazoo was exemplary. He served as chairman of the Kalamazoo Employment Advisory Council and president of the Kalamazoo County Chapter of the United Nations Association and the Kalamazoo Chapter of the American Association of University Professors. He also worked as the Democratic civil rights coordinator for Kalamazoo County.
Professor Cleland remained active in retirement, serving as Chairman of the Student Loan Funding Corporation and on the Board of Directors of KnowledgeWorks, Tuition Exchange, and AMIDEAST.
He is survived by his wife of 27 years, Diana Drake Cleland, and his children Ann Feldmeier, Doug Cleland, Sarah Allen, Scott Cleland, Cynthia Rush, Allison Abizaid, Linda Wiener, Carol Abizaid, Amanda Abizaid Plonsky, and Richard Abizaid. He is also survived by 19 grandchildren and 14 great grandchildren. Professor Cleland was widowed by his first wife of 39 years, Betty Chorpenning Cleland.
Sherill Cleland loved Kalamazoo College, and that love was a legacy he passed to his family. His daughter Ann and son Scott are graduates (1972 and 1982, respectively) as is his granddaughter Amy Houtrow (1996).