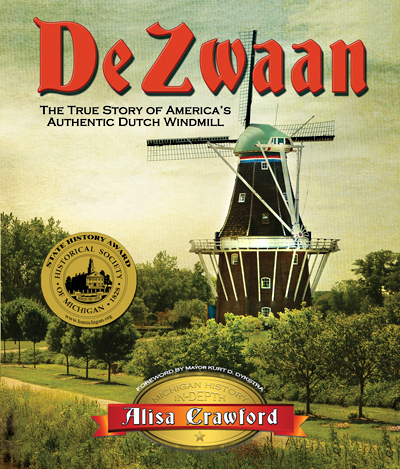 Move over, Chaucer! Kalamazoo College has its own "Miller's Tale," that of Alisa Crawford '91, who recently won the state history award from the Historical Society of Michigan for her book "De Zwaan: The True Story of America's Authentic Dutch Windmill." Alisa is the resident miller at the De Zwaan windmill, which is located in Holland, Michigan. Achieving qualifications for that job was no "run of the mill" effort; nor was piecing together the origins and history of the mill she operates and loves. After many years learning to speak Dutch, study, apprenticeship, and testing, Alisa became a Dutch-certified miller. Then after more testing, she was admitted to an elite Dutch guild of professional grain millers. Through that process, she came to know a number of mill historians in The Netherlands. Together they dug through dusty archives in The Netherlands, interviewed people connected to the mill, and crawled through the windmill searching for archaeological clues.
"At the time of its purchase," notes Alisa, "authorities in The Netherlands thought it had been built in 1761 in the Zaan region in North Holland to make hemp rope, but then clues began trickling in that made that impossible." Without giving away the end of the book, Alisa says of the mill that now stands on windmill Island in Holland: "De Zwaan began its career far from North Holland and does not have a 'purebred pedigree', as originally presumed." She indicates that it was assembled from the parts of several mills much later than 1761. However, that lineage, she writes in the book, "is what makes De Zwaan unequivocally authentic. Windmills were and continue to be working machines. When they break, they are repaired. When they become outmoded, they are re-purposed. When the parts wear out, they are replaced."
Alisa received the award at the State History conference held in Saginaw. In her acceptance speech she noted, "I like to say I'm a miller by trade, an historian by degree, and now an author by award, and I thank the Historical Society of Michigan for that honor." Her book is available on Windmill Island in Holland, at local retailers and online at In-Depth Editions.