Péter Érdi, the Henry R. Luce Professor of Complex Systems Studies, is the co-editor of a new book titled "Computational Neurology and Psychiatry." He also is the co-author — along with two K alumni, Takumi Matsuzawa '16 and Tibin John '15 — of a paper included in that book. The paper is titled "Connecting Epilepsy and Alzheimer's Disease: Modeling of Normal and Pathological Rhythmicity and Synaptic Plasticity Related to Amyloidβ (Aβ) Effects."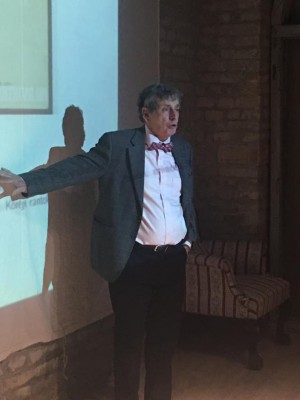 Sometimes seeing more is a matter of new ways of looking. Such "new ways of looking" include the emerging scientific fields of computational neurology and computational psychiatry. The key word is "computational." Researchers apply math and computer science to create computer models that simulate brain structures and brain activities associated with specific disorders (epilepsy and Alzheimer's disease, for example). Such simulations — and new techniques of analyzing the copious amount of data that emerges from such simulations — have the potential to reveal elements of brain structure and function associated with disease and disorders, elements that have heretofore been a mystery. In other words, these "new ways of looking" may result in seeing what's never been seen before.
Computer modeling also offers advantages of cost and convenience compared to older ways (animal experimentation and laboratory set-up) of trying to model and see brain structure and (mal)function.
A book that pioneers these new scientific fields is exciting and important, says Péter:  "Adopting advanced computational methods such as modeling and data processing raises hopes that one day we will more effectively treat neurological and psychiatric disorders."
In other news, Péter has been appointed vice president for membership of the International Neural Network Societies.